1950s Recipes and Cooking Tips
There was a distinct set of challenges to overcome when it came to providing tasty, nutritious meals for your family in the 1950s. Certain foods, including meat, cheese, butter, preserves, tea and sugar were rationed until 1954. With the help of the recipes and tips submitted by readers in The Sunday Post ,People's Journal and The People's Friend, housewives were able to expand their culinary prowess.
To celebrate the launch of Pass It On, a collection of those recipes and tips, we take a look at some of the recipes that have stood the test of time. There are also those that are less common today, due to changes in lifestyles, available produce and a change in our tastes and gastronomic influences.
Alongside smashed avocado on toast and eggs Benedict, bacon and eggs in various forms are a staple of today's brunch menus. They were used in many breakfast dishes in the post-war years too, setting up family members for the day ahead.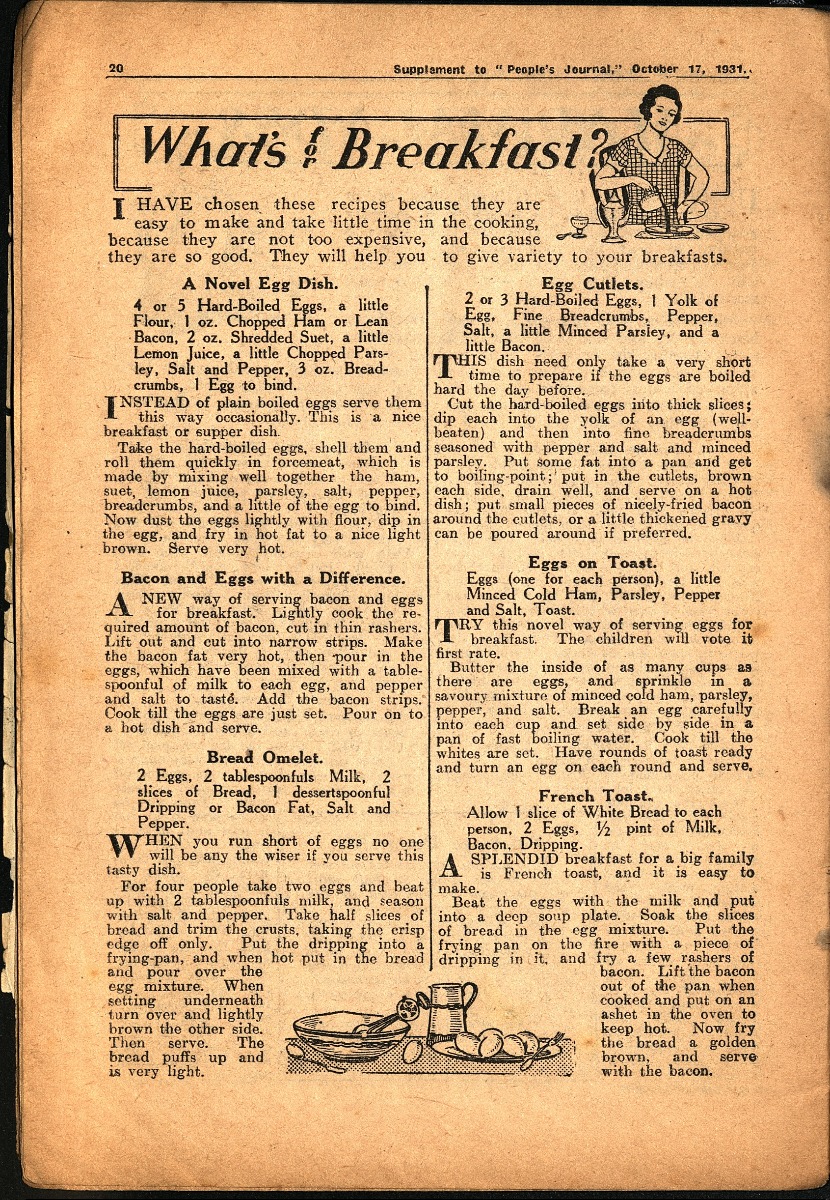 Best French Toast
1 slice of white bread per person
2 eggs
½ pint of milk
Bacon
Dripping
A splendid breakfast for a big family is a simple French toast recipe, and it is easy to make. Beat the eggs with the milk and put into a deep soup plate. Soak the slices of bread in the egg mixture. Put the frying pan on the fire with a piece of dripping on it and fry a few rashers of bacon. Lift the bacon out of the pan when cooked and put a dish in the oven to keep hot. Now fry the bread a golden brown and serve the french toast with bacon.
Creamed Corn Toast
When this recipe was first published in Quicktime Cookery in conjunction with People's Friend, it was listed as a quick breakfast. This was despite the corn, ham, milk and margarine having to be simmered for twenty minutes. It was suggested that breakfast should include fruit, cereal and a hot savoury. Although not many of the hot savouries were made using tinned sweetcorn...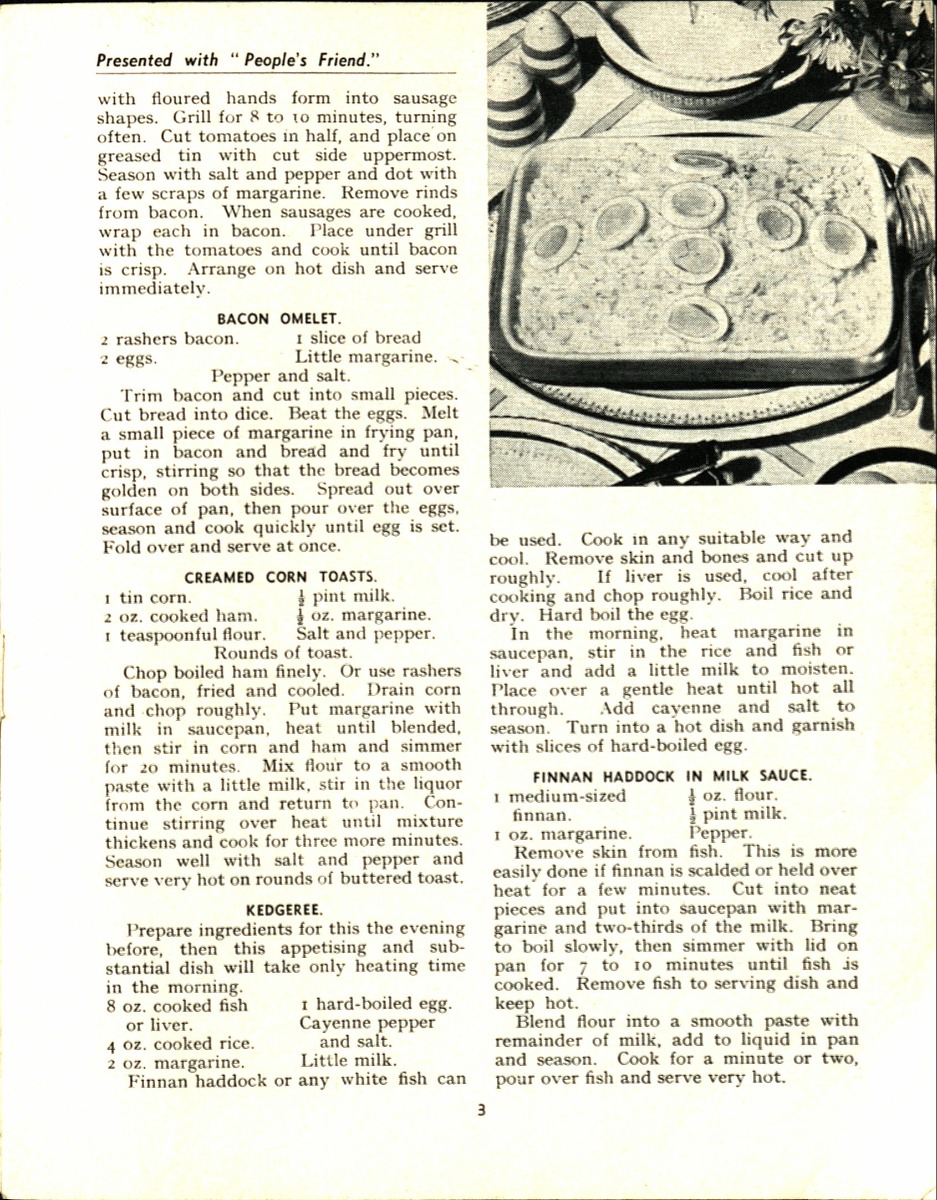 When grilling bacon, I find using kitchen scissors a much easier way of turning rashers.
If you have salty bacon, lay it on a dinner plate and pour boiling water from the kettle over it. Drain before frying.
Nothing warms the bones on a dreich day more than a hot bowl of soup. As a cost-effective way of providing a nutritious and filling meal, soups and broths are as popular now as they ever have been.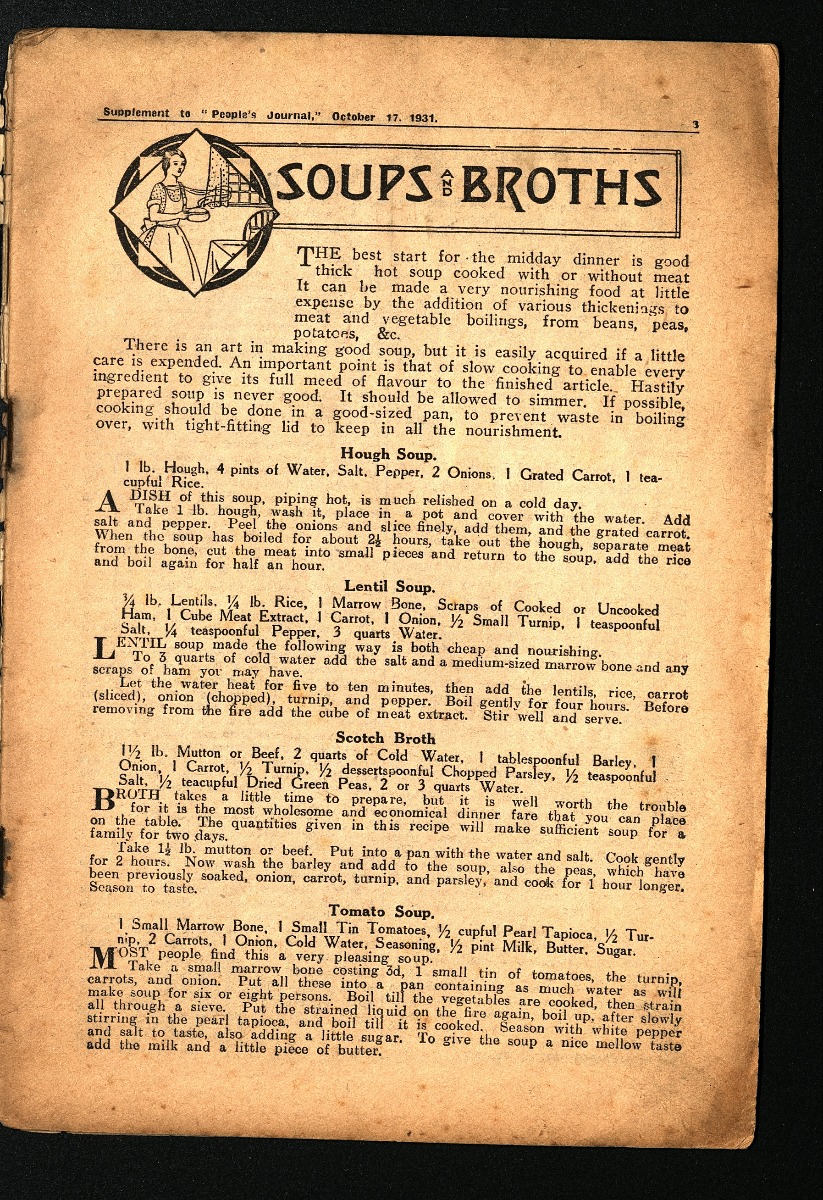 Traditional Lentil Soup
¾ lb lentils
¼ lb rice
1 marrow bone, scraps of cooked or uncooked ham
1 cube meat extract
1 carrot
1 onion
½ small turnip
1 tsp salt
¼ tsp pepper
3 quarts water
Lentil soup made this way is both cheap and nourishing. To 3 quarts of cold water add the salt and medium-sized marrow bone and any scraps of ham you may have. Let the water heat for five to ten minutes, then add the lentils, rice, carrot (sliced), onion (chopped), turnip, and pepper. Boil gently for four hours. Before removing from the fire add the cube of meat extract. Stir the lentil soup well and serve.
Calf's Foot Broth
Aunt Kate's Cookery Book included Calf's Foot Broth, found in the Tempting Dishes for Invalids section. Although not necessarily a word we'd use today, 'invalid' referred to someone who was in bed due to an illness. While you may be unlikely to find a calf's foot on a supermarket shelf these days, the recipe is indicative of a need to use all of the produce that was available.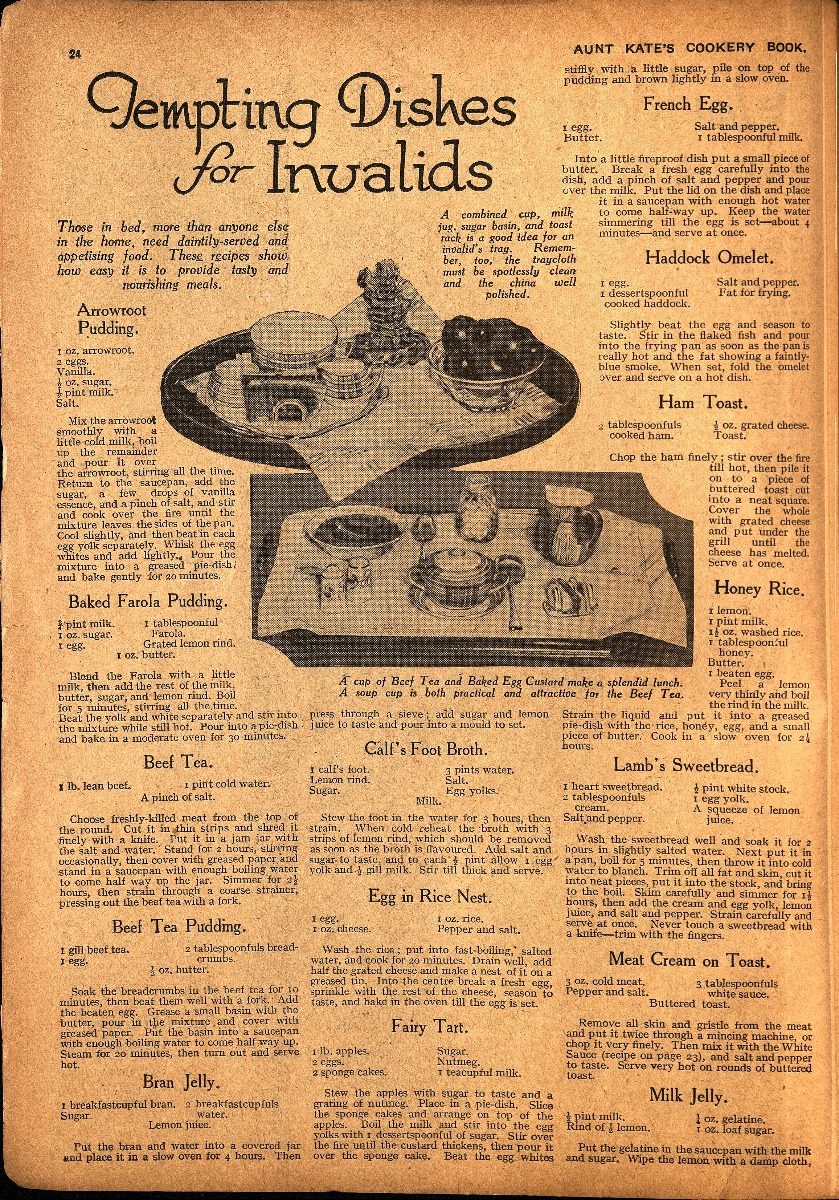 To give soup a nice flavour, try filling a metal tea ball or perforated tea-making spoon with your herbs, onion or bouquet garni. Drop in simmering mixture and remove when flavour suits you.
Meat was one of the last things to stop being rationed. Before that was lifted in 1954, you were never sure about the type, cut or quality of meat you might get. Because of this, cooking stews was an effective way of making a little meat go a long way.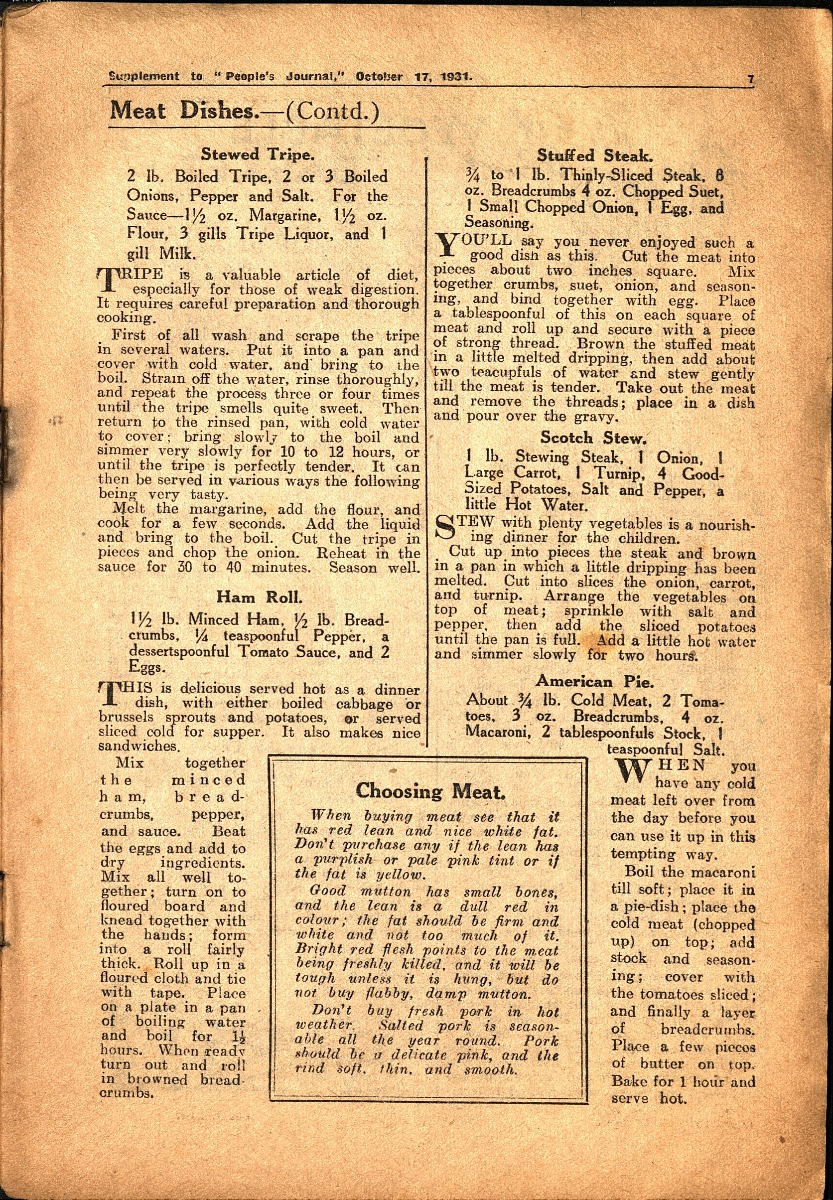 Beef Stew Recipe
1 lb stewing steak
1 onion
1 large carrot
1 turnip
4 good-sized potatoes
Salt and pepper
A little hot water
Beef stew with plenty of vegetables is a nourishing dinner for the children. Cut the steak into pieces and brown in a pan in which a little dripping has been melted. Cut into slices the onion, carrot, and turnip. Arrange veg on top of meat; sprinkled with salt and pepper, then add the sliced potatoes until the pan is full. Add a little hot water and simmer slowly for two hours.
Bacon & Bananas
While they seem a bit 'quirky' today, savoury recipes containing bananas represented adventure and exotic, far-off places in a post-war world. If combining bananas with bacon and peanut butter in sandwiches was good enough for Elvis Presley, then bacon with bananas was surely good enough for the rest of us.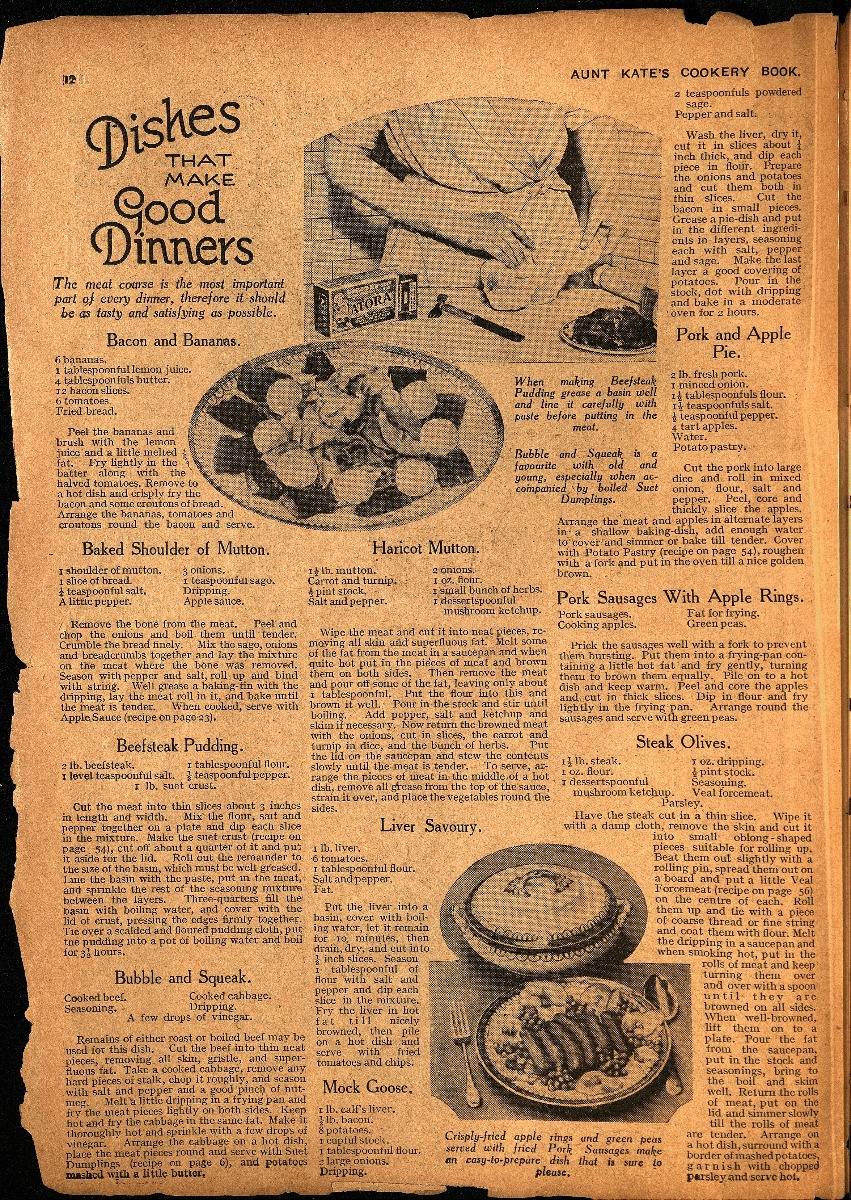 When buying meat see that it has red lean and nice white fat. Don't purchase if the lean has a purplish or pale pink tinge or if the fat is yellow.
There may have not been many vegetarians in the 1950s and food shortages meant that people needed to be resourceful. Almost everyone had a veg patch, so recipes made using homegrown produce became an extension of the "Dig for Victory" attitude.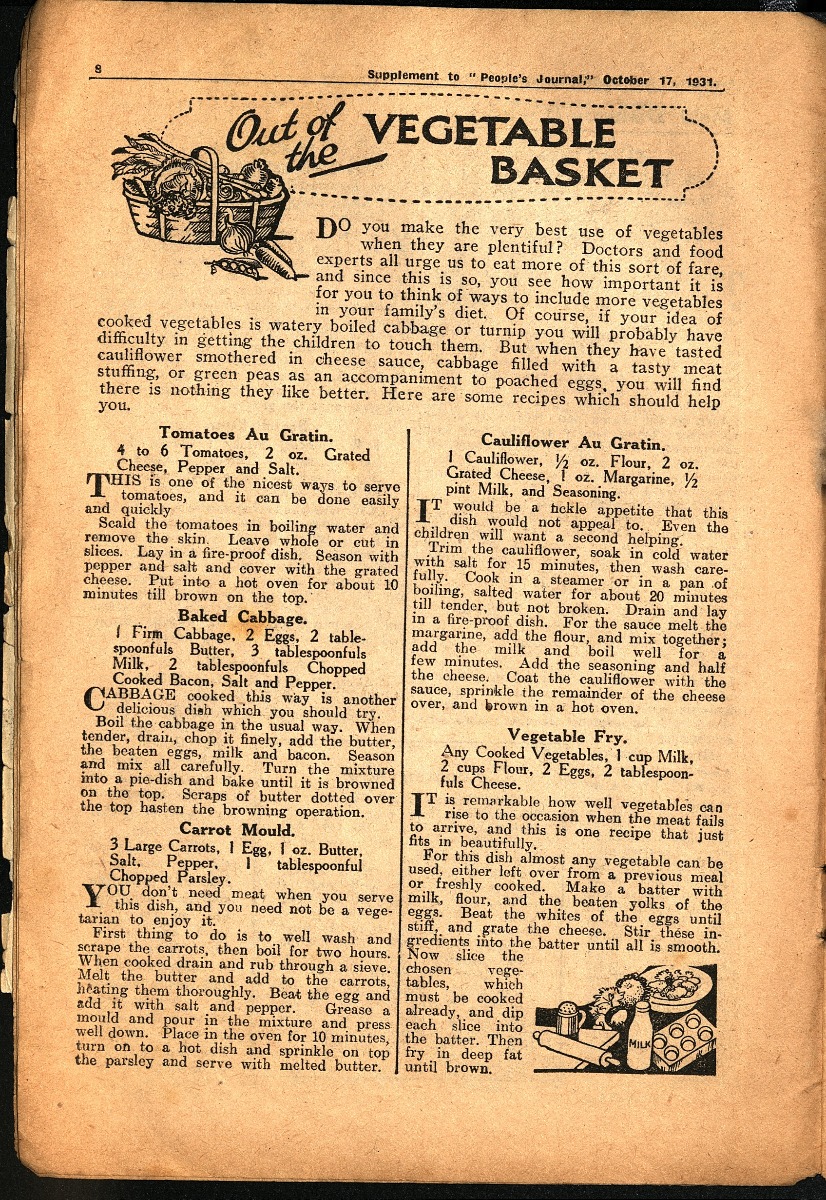 Cauliflower Cheese
1 cauliflower
½ oz flour
2 oz grated cheese
1 oz margarine
½ pint milk
Seasoning
It would be a fickle appetite that a cauliflower cheese bake would not appeal to. Even the children will want a second helping. Trim the cauliflower, soak in cold water with salt for 15 minutes, then wash carefully. Cook in a steamer or in a pan of boiling salted water for about 20 minutes till tender but not broken. Drain and lay in a fireproof dish. For the cauliflower cheese sauce, melt the margarine, add the flour, and mix together; add the milk and boil well for a few minutes. Add the seasoning and half the cheese. Coat the cauliflower with the sauce, sprinkle the remainder of the cheese over and brown in the oven. Remove and your cauliflower and cheese is ready to serve.
Jellied Surprise Salad
A salad that involved tinned pineapple and cherries set in jelly, along with mayonnaise and whipped cream, served on a bed of lettuce would certainly be a surprise addition to any modern cookbook. The use of gelatin was popular in the 50s as it's transparency allowed brightly coloured tinned foods to liven the aesthetic of a meal in addition to serving as a status symbol for those who had fridges in which to set it.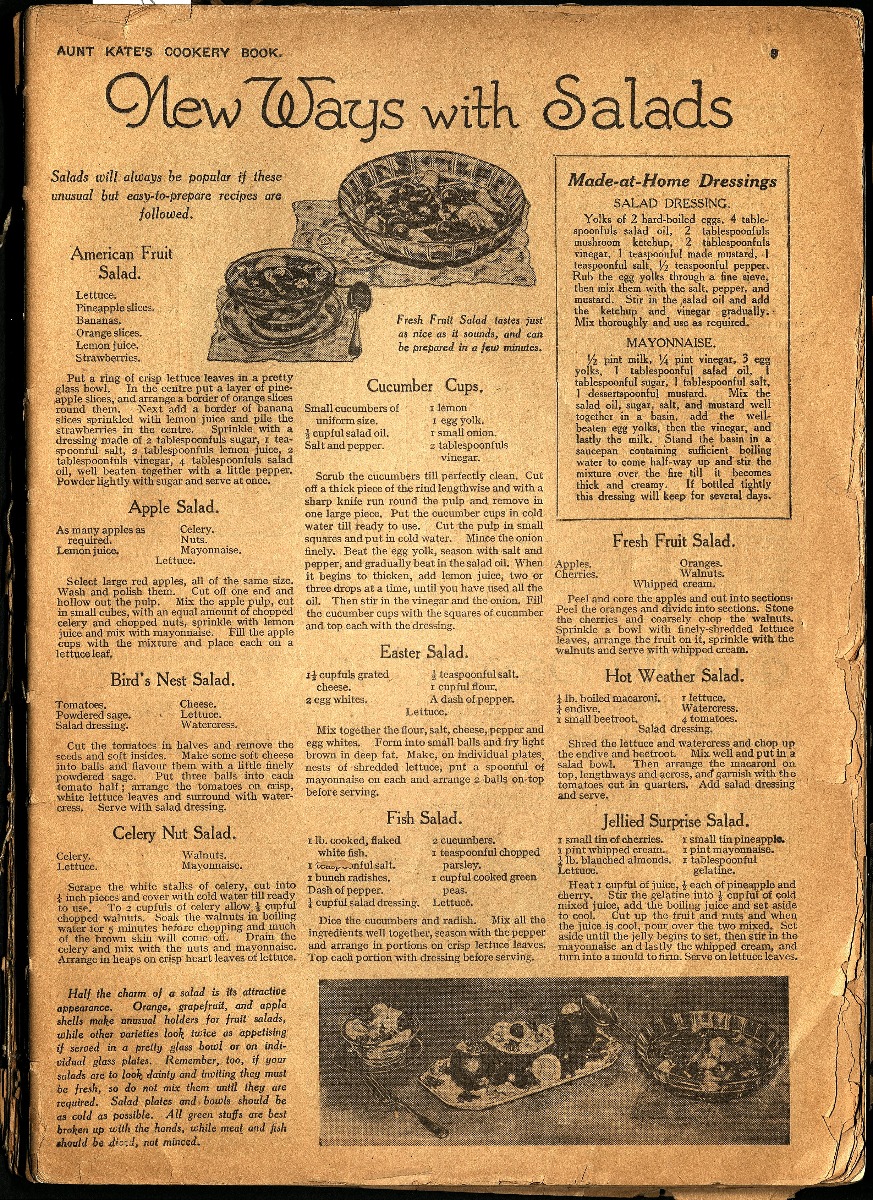 To get best results, vegetables that grow in the light (cabbage etc.) should cook in the light - with lid off and put into boiling water. Those that grow in the dark (root vegetables) should cook in the dark - with lid on and put into cold water.
Cheese took a long time to recover from rationing. The war had drastically impacted on the number of dairy farms and the industry didn't fully recover until the 1990s. During the 1950s, only mild cheddar nicknamed "Government Cheese" was available, so dishes like macaroni cheese were a special treat.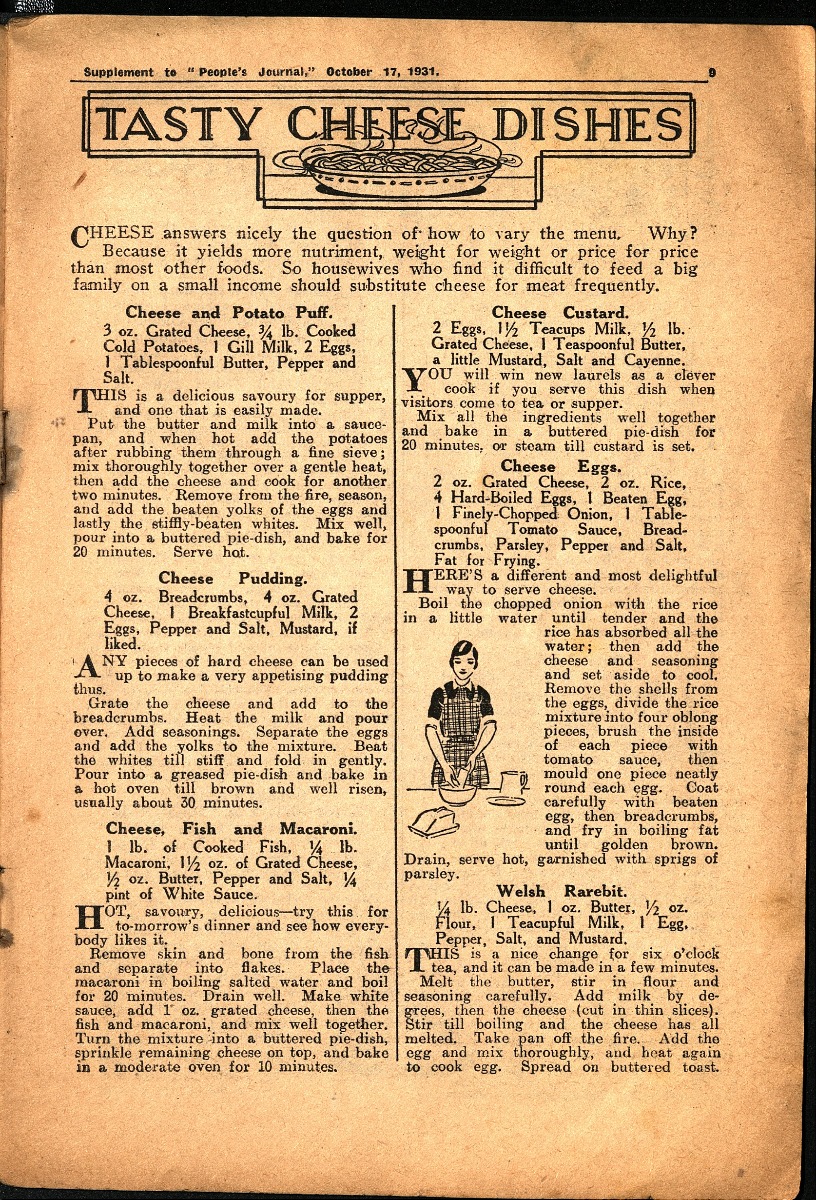 Seafood Macaroni Cheese
1 lb of cooked fish
¼ lb macaroni
1 ½ oz of grated cheese
½ oz butter
Pepper and salt
¼ pint of white sauce
Hot, savoury, delicious - try macaroni cheese for tomorrow's dinner and see how everybody likes it. Remove skin and bone from the fish and separate into flakes. Place the macaroni in boiling salted water and boil for 20 minutes. Drain well. Make white sauce, add 1 oz grated cheese, then the fish and macaroni, and mix well together. Turn the mixture into a buttered pie-dish, sprinkle remaining cheese on top, and bake in a moderate oven for 10 minutes. Remove from oven and your mac and cheese is ready to serve.
Cheese Custard Recipe
As government cheese lacked flavour, housewives needed to find unique and interesting ways to dress it up. The fact that a cheese custard recipe is found on a page titled Serving Cheese in Different Ways further illustrates Britain's cheese shortage.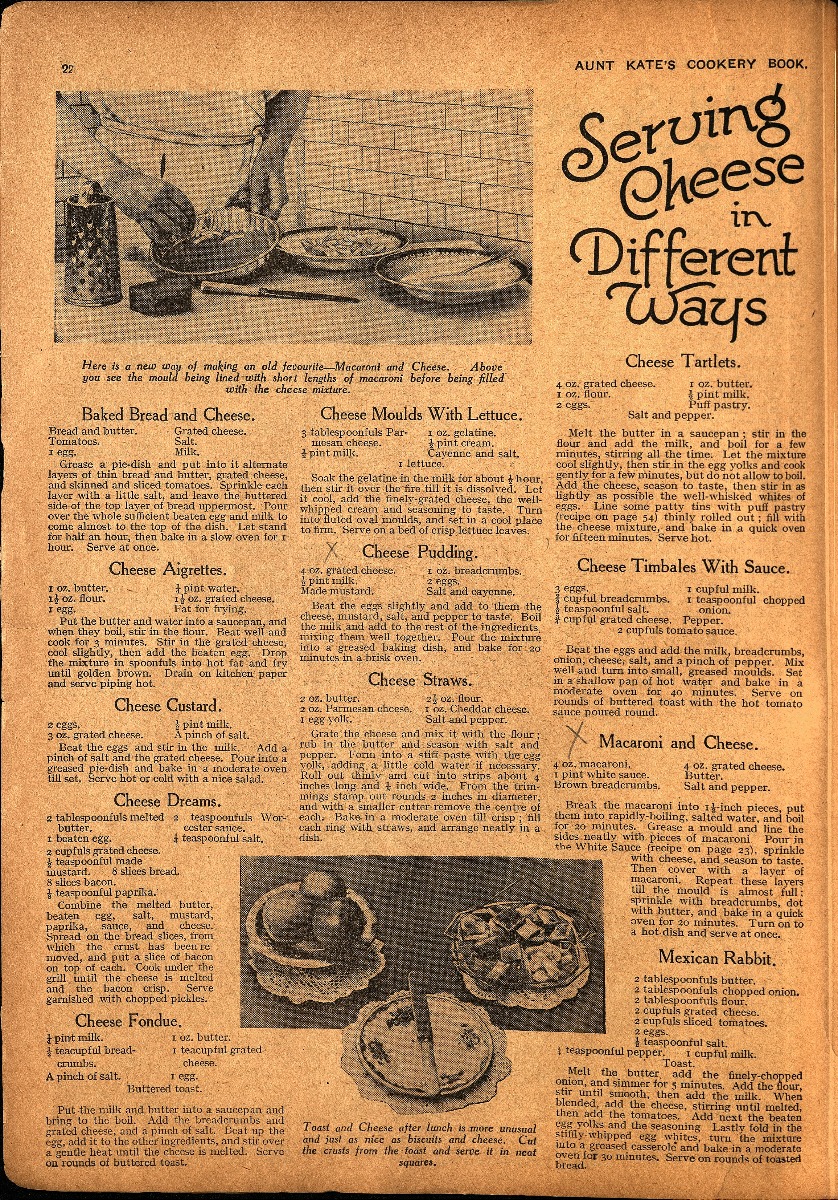 Cheese is apt to get hard when kept for a few days. To prevent this, place a slice of lemon alongside it in the dish. It will keep it moist much longer.
A sugar lump in the cheese dish prevents cheese turning mouldy. If you want cheese to keep, wrap it in cheesecloth wrung out in vinegar, repeating as often as the cloth becomes dry.
On a cold winter's evening, there's nothing better than steamed plum pudding. During the early 1950s, sugar was still rationed, so housewives and mothers needed to get creative to make the perfect pud.
Plum Pudding Recipe
¼ lb breadcrumbs
¼ lb orange peel
½ lb flour
½ lb shredded suet
½ lb brown sugar
½ lb currants
½ lb blue raisins
1 apple (chopped)
1 lemon
2 tsp mixed spice
½ tsp nutmeg
½ tsp baking soda
2 eggs
½ pint milk
There are many plum pudding recipes, but this is an inexpensive o