Christmas Gift Subscriptions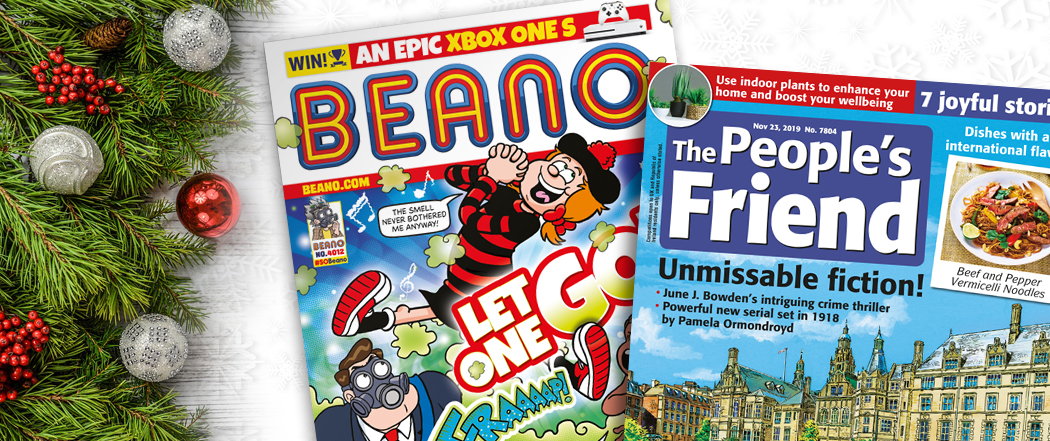 If you still have some shopping to do, there's just enough time left to make sure everyone on your Christmas list gets a thoughtful gift that lasts all year. Shop our Christmas subscription offers and tick everyone off your list in time for Christmas. From the wholesome stories of The People's Friend to the mischief filled pages of the Beano we've got something for all the family this Christmas.
With subscriptions starting from only £3 there's never been a better time to buy a gift subscription for a loved one. Have a look through our best ever Christmas offers and you can save up to 65% on the shop price, so that's Christmas sorted!
Women's magazines
Why not say "Merry Christmas" with a subscription to The People's Friend and they can delve into captivating fiction stories, nutritious recipes, and expert gardening advice every week. For women who love a bit of everything, a subscription to My Weekly makes a great gift with celebrity news, delicious recipes and amazing health and wellbeing advice, every week. Each issue is a little piece of me-time that every woman needs, delivered straight to their door.
---
Kids & Teen Magazines
Give them a digital detox this year with a subscription to their favourite magazine. A subscription gives them constant updates on their favourite characters and they'll get each magazine before they even hit the shops. Kids (and adults) of all ages will love the stories in the Beano, following the adventures of the Bash Street Kids, Minnie the Minx, and of course Dennis and Gnasher with their weekly antics and tales of trouble. A subscription to The Official Jaqueline Wilson Mag gives them VIP access to exclusive preview stories, drawing tips from Nick Sharratt and never before seen pictures. Every issue will keep them entertained from cover to cover and provide hours of educational fun.
---
British Heritage Magazines
Our heritage magazines are packed full of breath-taking photography and interesting articles, each issue celebrates all that's great about Britain. A heritage magazine makes a great gift for friends or family, at home or abroad. The Scots Magazine brings you interviews with the biggest names, as well as the best stories from around Scotland every month. With and articles celebrating Scotland's rich urban and rural life, a subscription to The Scots Magazine is the ideal gift for anyone who loves all things Scotland. This England gently celebrates all that is best about England and the English way of life. Each quarterly issue salutes our gorgeous countryside, unique customs, people, places, history and heritage, accompanied by beautiful photographs.
Whether it's a gift for your friend, a parent or your other half, get them something they'll really love this year with a subscription to their favourite magazine. With all these great titles to choose from, we've got something for everyone this Christmas, and our great-value subscription offers are perfect for any budget. (Even leaving a bit left over for some extra mulled wine). Stop shopping and start saving with our DC Thomson subscription offers this Christmas.
View our full range of Christmas Subscription Offers here