Christmas Hampers - The Perfect Gift to Send from the Comfort of Home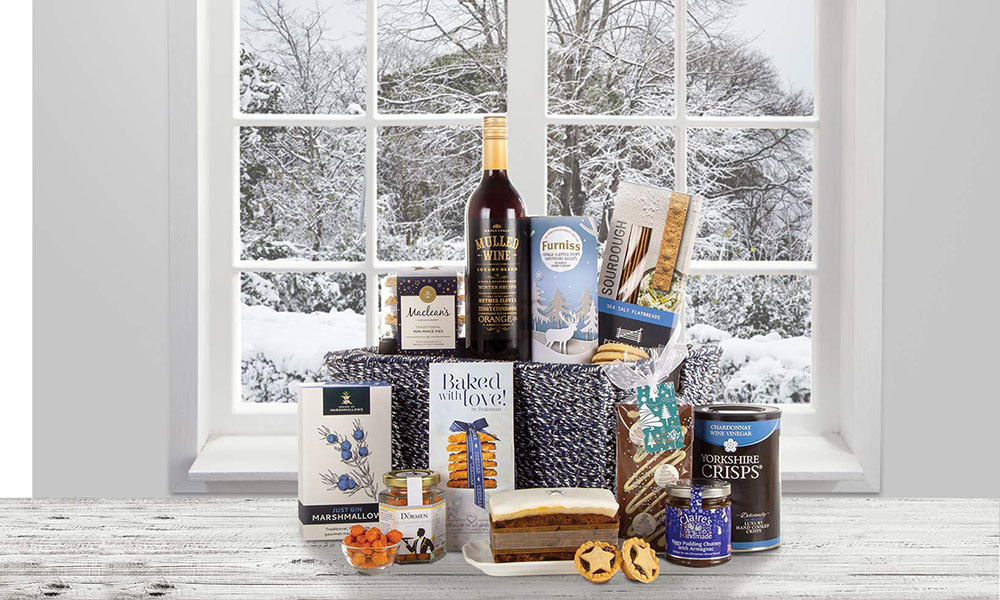 Starting our Christmas countdown, here are 9 fantastic hampers all giving you the chance to send seasonal best wishes to friends and family this fast-approaching festive season.
---
1. Dean's Luxury Hamper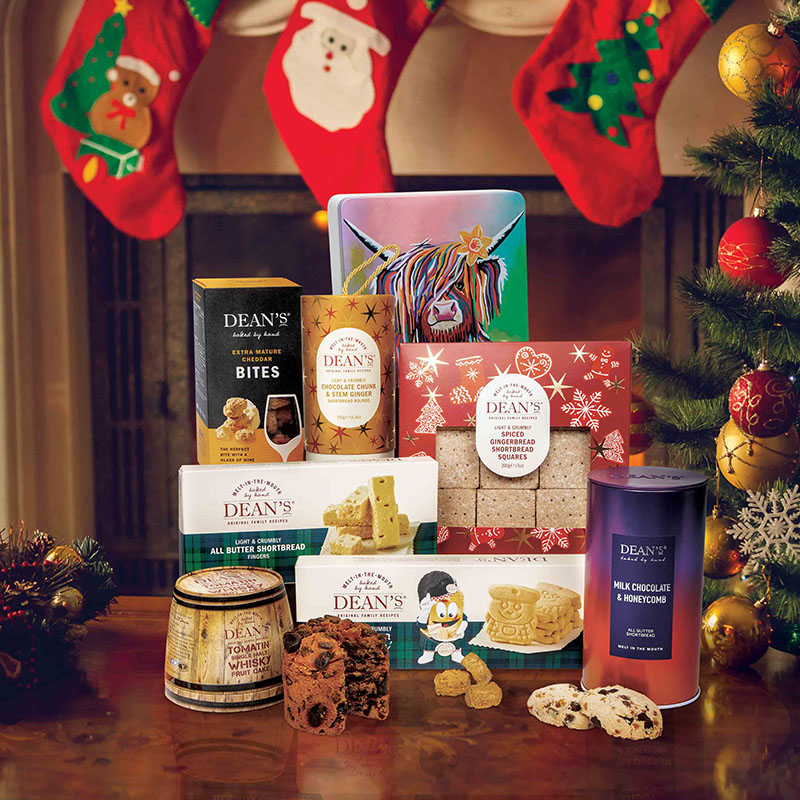 Want to add a well-earned spot of luxury to the festive celebrations? Consider our Dean's Luxury Hamper.
Including several Dean's signature items, our hamper will arrive at your friend of family member's doorstep packed with treats.
Different hamper highlights include all butter 'Shorties,' luxury Milk Chocolate & Honeycomb shortbread rounds and, new for 2020, an eye-catching Marie McCoo Tin of shortbread from Scottish artist, Steven Brown.
2. Christmas Carol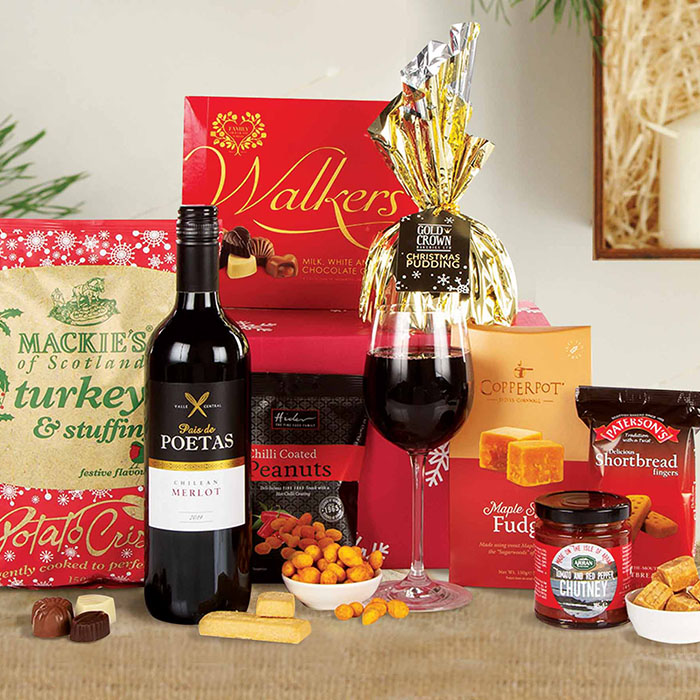 Packed with positively festive fancies, our Christmas Carol hamper caters to different tastes, serving up something a little sweet and a little savoury.
Treats include Christmas Pudding, luxury chocolate, Hider Chilli Coated Peanuts, a jar of Arran Fine Foods Tomato & Red Pepper Chutney, that may well find itself reaching the dinner table at lunch time, and a bottle of fruity Merlot Pais de Poetas.
---
3. Snowy Delights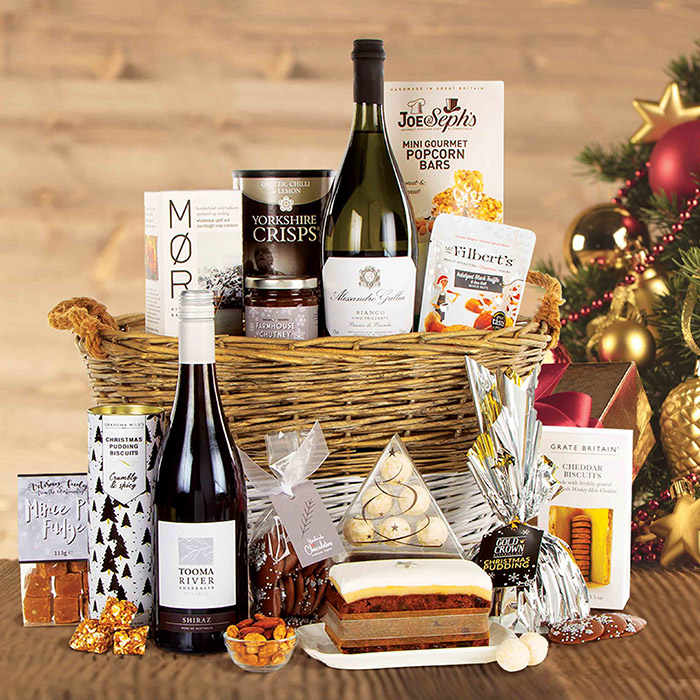 Set to impress this fast-approaching festive season, our Snowy Delights hamper features only the finest artisan products.
A collection of 14 beautiful gifts (alongside a sleek hamper sure to grab attention), your recipient will be able to toast to your friendship with a glass of Prosecco after sampling some delicious food!
Tricky decisions lie ahead on what to try first. Will it be Champagne Snowballs? Gourmet Coconut and Peanut bars, or indulgent Black Truffle and Sea Salt Mixed Nuts? Tricky decisions indeed!
---
4. Walkers Festive Hamper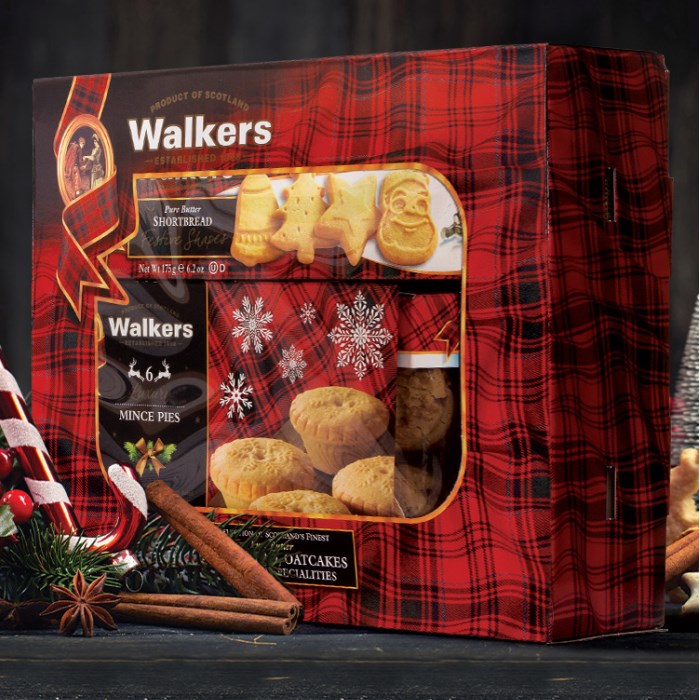 One that will set up the recipient with luxury delights until long after Christmas, our Walkers Festive Hamper is the perfect Yuletide gift.
Alongside Festive Shapes Shortbread, just some hamper highlights include essential Mince Pies, Mini Oatcakes, Strathspey Fruit Cake and Salted Caramel & Milk Chocolate Cookies.
5. Season's Greetings Carton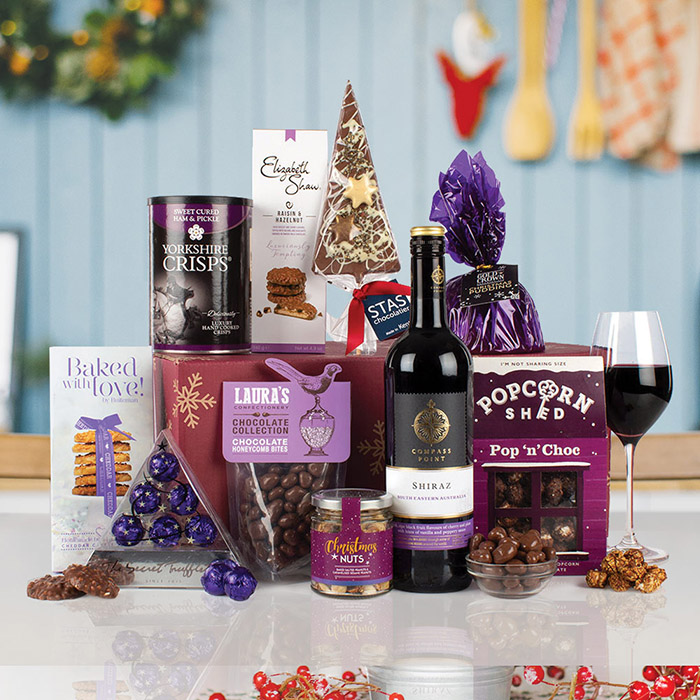 Wonderfully presented in a 100% recyclable festive postal carton, send festive greetings with this tasty hamper, set to send tongues wagging this festive season.
Alongside delicious (and buttery!) Mince Pies, our hamper is a treasure trove of delicious treats.
Get ready! Here are just some notable inclusions - Radfords Mince Pie Fudge, a Christmas Chocolate Cracker, Yorkshire Popcorn Sweet Popcorn, and delicious sounding Radfords Mince Pie Fudge!
---
6. Jingle Bells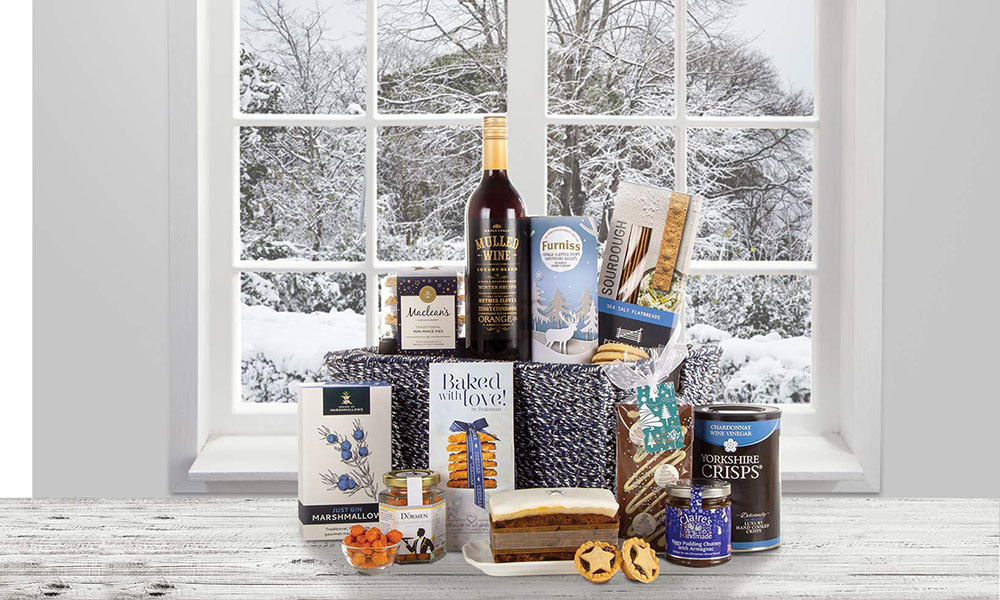 Sweet and savoury combined, complimented by a bottle of mulled wine, this chic navy and silver weave basket hamper is set to arrive in impressive style this festive season.
Jam-packed with goodies, hamper contents sure to catch the eye include; Claire's Handmade Figgy Pudding Chutney with Armagnac, The Dormen Spiced Sesame Peanuts and Just Gin Grown up Marshmallows!
---
7. Dean's Steven Brown Full Collection
8. Merry Christmas Basket
An excellent keepsake, the iconic and colourful designs of Scots artist Steven Brown add a memorable twist to this delicious collection of All Butter Shortbread Rounds.
Born in Ayrshire, the artist's striking style has captured the imagination of customers around the world.
Featuring Kev McCoo, Huey McCoo, Chole McCoo, Glen McDeer and Tam McDeer, this comprehensive collection shows off the talented artist's work in delicious style!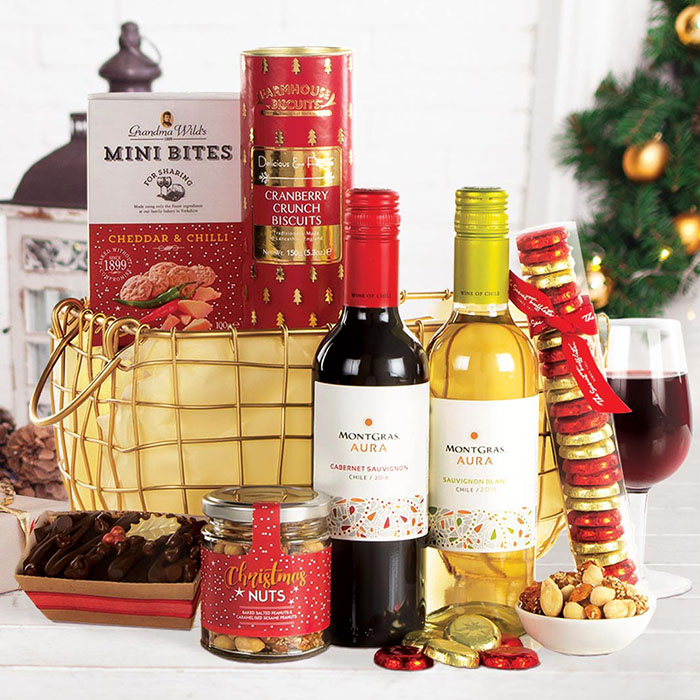 Generously filled with delights, say Merry Christmas the right way with our Merry Christmas Basket.
Alongside half bottles of red and white wines, your chosen recipient will enjoy (to name just a few) a Classic Christmas Pudding, iced Christmas Cake, and chocolate pralines – all nestled together in an attractive grey wash basket that would not look out of place on Santa's sleigh!
9. Walkers Aberlour Hamper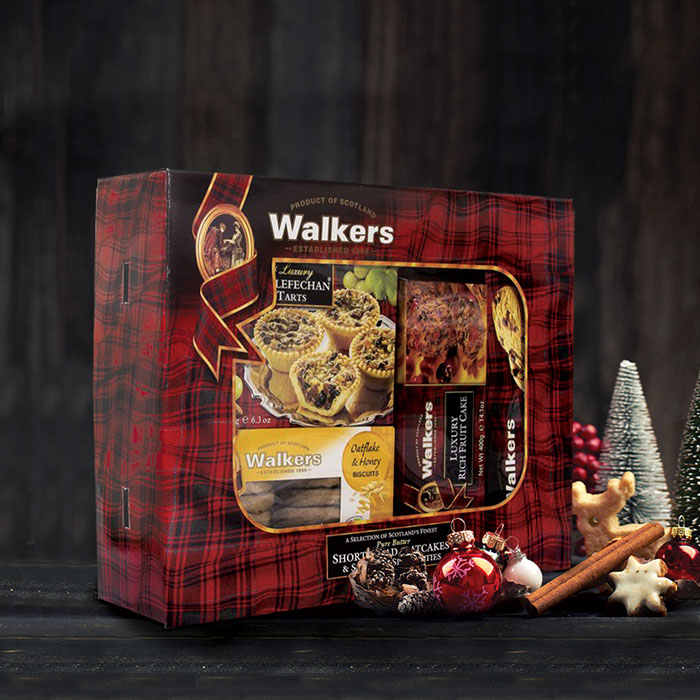 Searching for the perfect gift for someone that has everything?