Iconic Action and Adventure - Introducing the Commando Classic Covers Collection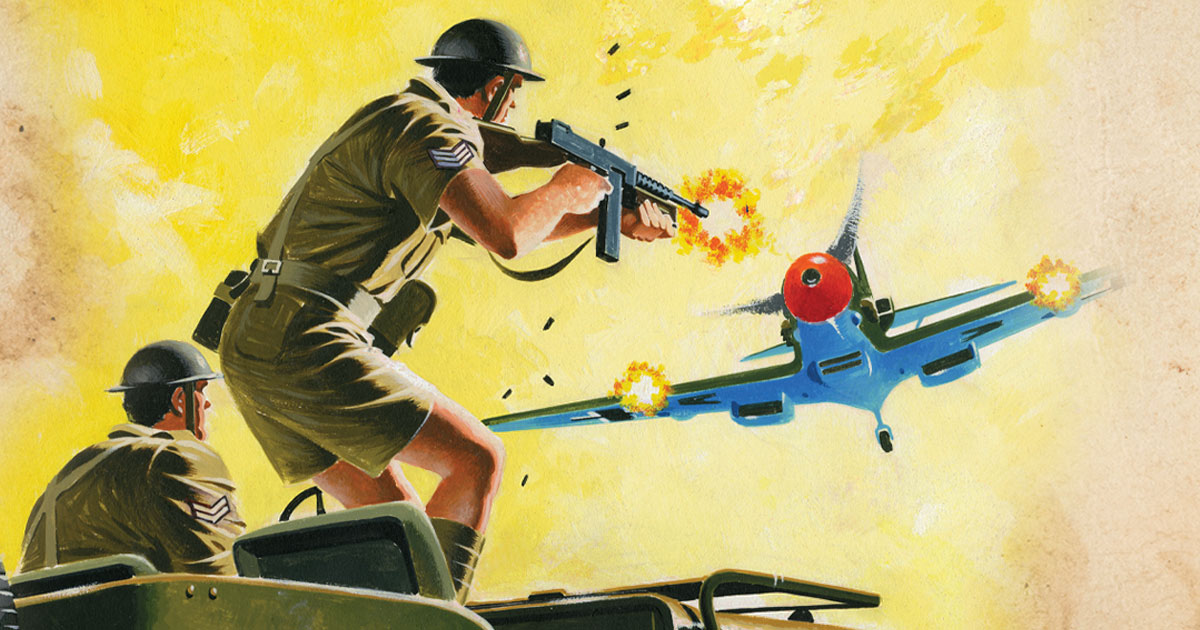 Brand new for 2022, we are proud to present our exclusive Commando Classic Covers Collection.
A selection of classic covers curated by Commando Designer, Grant Wood, these exciting new gifts give fans the chance to enjoy some of the best covers from the Commando archives all over again.
---
What can I order?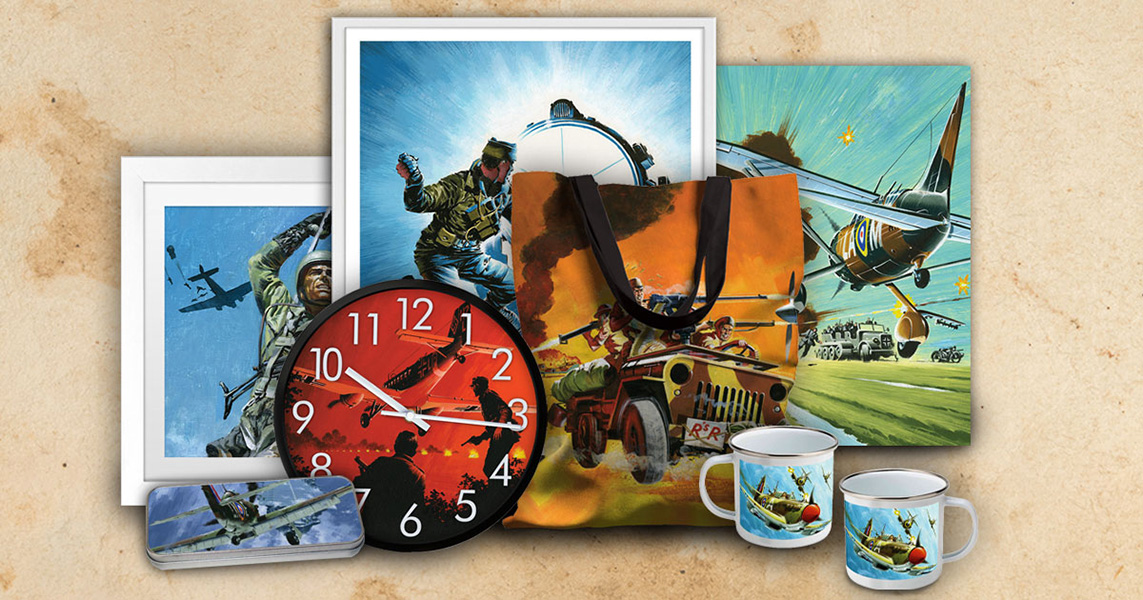 Fans can order a fantastic selection of prints, canvas, clocks, mugs and tote bags, all featuring stunning artwork from some of Commando's best known artists including Ian Kennedy, Jordi Penalva and Ken Barr.
What classic covers have been chosen?
1. Atlantic Veteran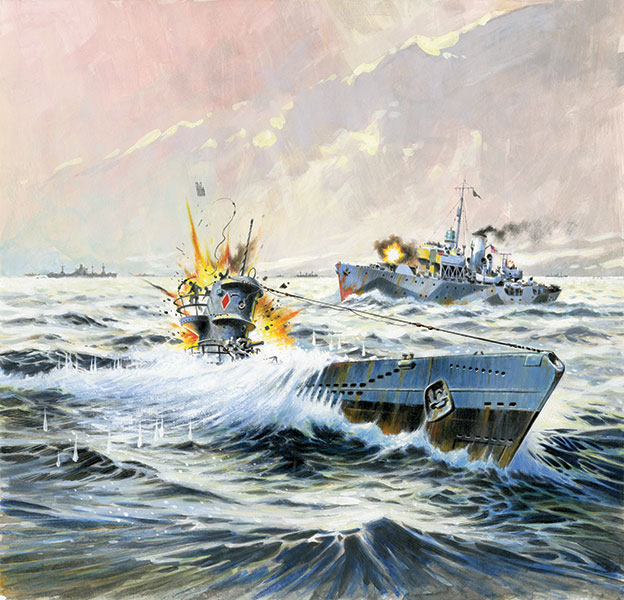 Cover illustration by Jeff Bevan, originally printed as No. 957 in 1975.
Commander Ernst Strubler — ace U-boat captain with a list of kills as long as your arm, a veteran of the fearful battles of the Atlantic convoys.
A — second-in-commando of a sub-killing corvette. He was another veteran — he'd seen his first ship sunk by the U-boat, and barely escaped with his life.
Now they were ranged against each other again. For Strubler, it was a race to cripple the convoys that were Britain's lifeline — for Dave it was a chance to settle the score with Strubler once and for all.
It looked as if nothing could make either give way… short of being sunk.
2. Battle Squadron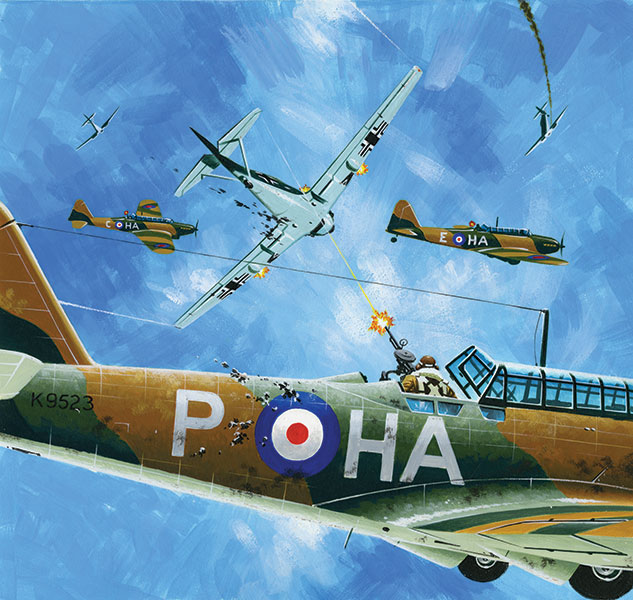 Cover illustration by Ian Kennedy, originally published as No. 569 in 1971.
Before the war Mike Stallard had fought as a pilot in China, Spain and South America. He hired his skills to the highest bidder and always ended up where the dogfights were the fiercest.
Then he went to France with the R.A.F., fighting strictly to order in clumsy Fairey Battles against sleek, deadly ME109s.
And unless the Top Brass listened to men like Mike and let them fight in their own way, this was going to be the last war that he and his mates would ever fly in.
3. Death in the Desert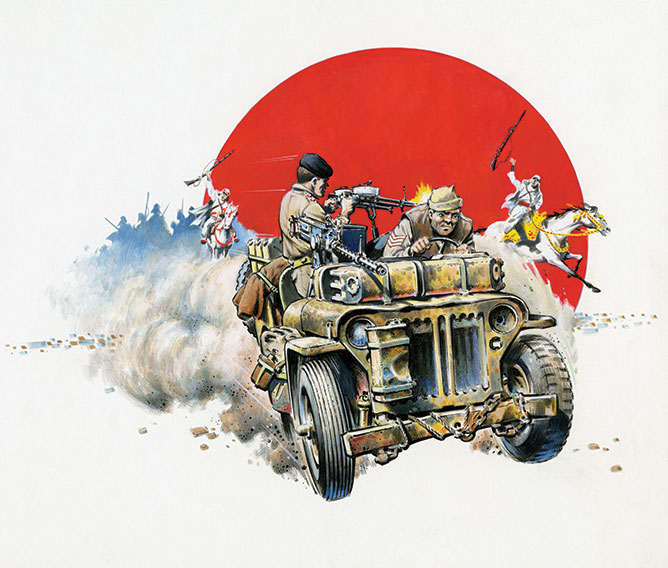 Cover illustration by Jeff Bevan, originally published as No. 962 in 1975.
When Lieutenant Neil Andrews found himself press-ganged into the bunch of ruffians known as "Portland's Pirates", his welcome wasn't a happy one.
As the brutal Sergeant Nick Kearney said, "This ain't no Boy Scout troop. There's just one way to get out of our mob, and that's feet first!"
Yes, being one of Portland's Pirates could be as good as a death sentence, but Neil wasn't ready to die yet!
4. Demons of Darkness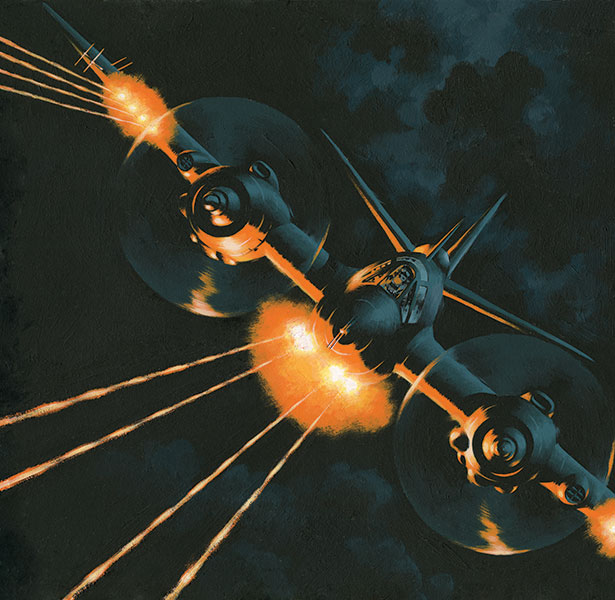 Cover illustration by Ian Kennedy, originally published as No. 964 in 1975.
Twenty thousand feet up in the black void of the night sky over England. Nerves tense, mouth dry, hand clutching the control column, thumb hovering over the firing button, eyes straining out into the dark as the thundering engines pull you into the nothingness ahead of you.
That's what it's like to be a night-fighter pilot...to be one of the Demons of Darkness!
5. Desert Fox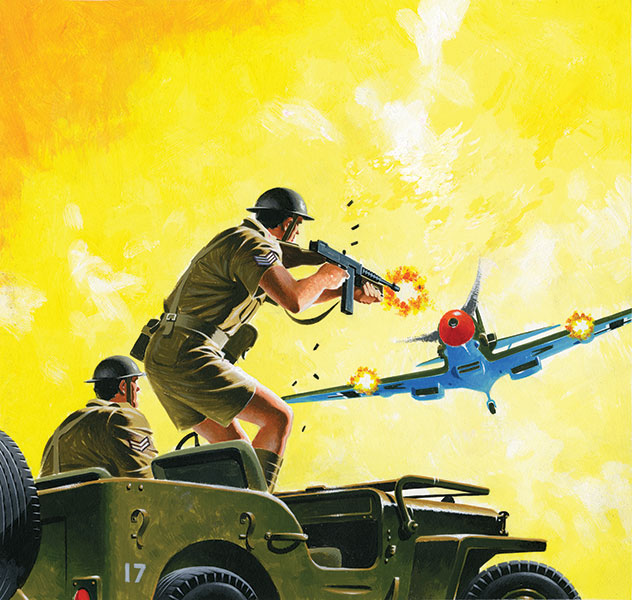 Cover illustration by Ian Kennedy, originally published as No. 514 in 1970.
"The Ghost" - that was the British soldier's nickname for the solitary German tank which would appear mysteriously out of the desert wastes to create havoc, and then just as strangely disappear.
Its tracks could never be seen, and everybody reckoned it was unstoppable – everybody, that is, except Sergeant Greg Fox. Greg decided to hunt it down, armed with only a tommy gun and two grenades!
6. Forward the Raiders!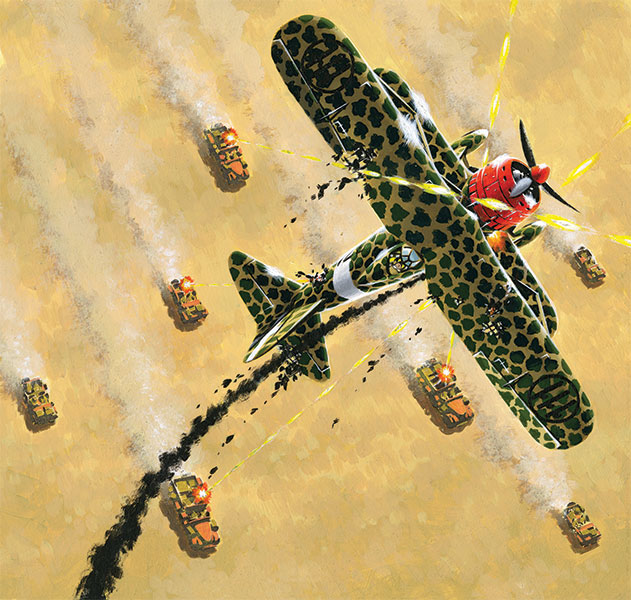 Cover illustration by Ian Kennedy, originally printed as No. 910 in 1975.
Into enemy-held territory they drove, deeper and deeper. Danger lurked on every side and in the skies above.
This was a mission that would sort the men from the boys, the strong from the weak, the heroes from the cowards!
7. Friend or Foe?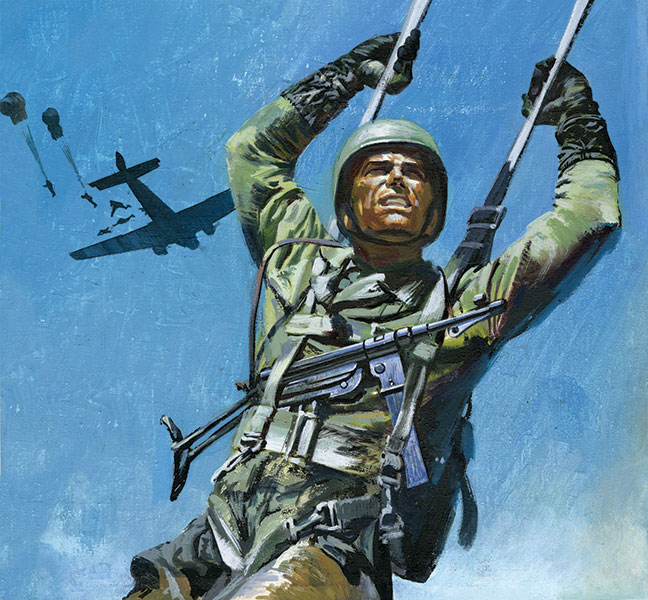 Cover illustration by Jordi Penalva, originally printed as No. 500 in 1970.
Down through the night came the Nazi paratroopers, each heavily-armed man dropping silently as a flake of snow.
Their mission — to assassinate one man who had talked too much — and everyone who had listened to him.
8. Hurricane Fury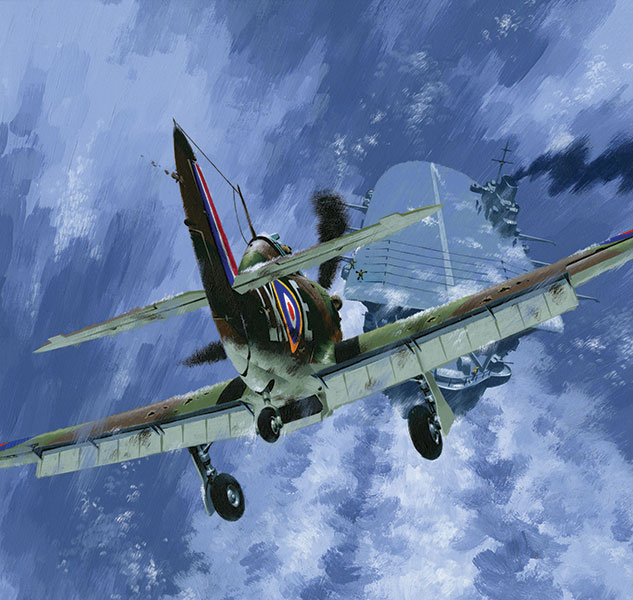 Cover illustration by Ian Kennedy, originally printed as No. 998 in 1976.
He flew his hurricane through a storm of ice and snow, through conditions that should have been impossible, to a deck-landing that no one else would have ever attempted.
Why take such terrible risks? Because this was the start of a vengeance trail.
He would stop at nothing to a find a certain man who was his sworn enemy and put an end to that man's evil life.
9. Killer Crew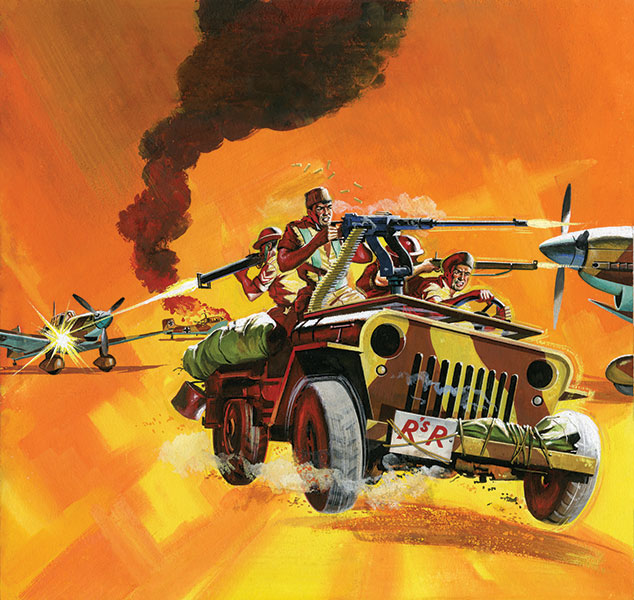 Cover illustration by Ken Barr, originally printed as No. 139 in 1964.
When Major Tod Raike and his "Raiders" went on the warpath in their high-speed armed jeeps, the best thing a Jerry could do was dig a quick hole in the sand and pull it in after him! What a bunch of blokes!
10. Low Level Lizzie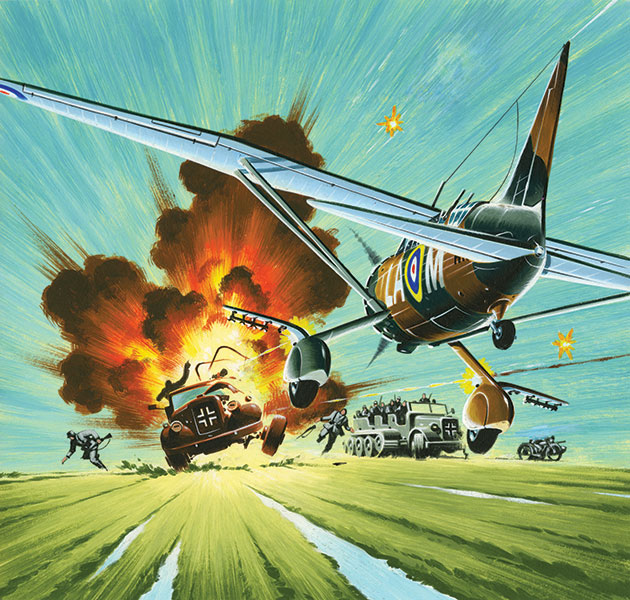 Cover illustration by Ian Kennedy, originally printed as No. 538 in 1971.
"Watch out — here comes Foster the Flying Fool!" That was the usual cry when Paul Foster came skimming along in his Lysander.
Most of the time it was hard to tell whether he'd actually taken off or not! All his mates knew Paul would fly into real trouble someday, but even they would never have believed what fate had in store for him — and on the ground too!
11. Strike by Night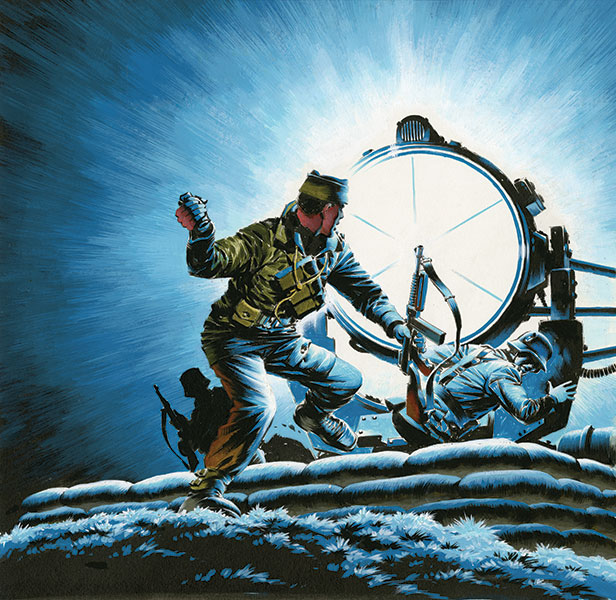 Cover illustration by Ian Kennedy, originally printed as No. 861 in 1974.
The massive bridge towered over a gorge in eastern Greece. Protecting it were machine guns, searchlights, and a platoon of German Troops.
A vital link in the lines of communication, it had to be cut.
So the attack was planned, the raiding party was chosen. Five men set out to destroy the bridge – only five, against such terrible odds.
12. Tank Buster Ace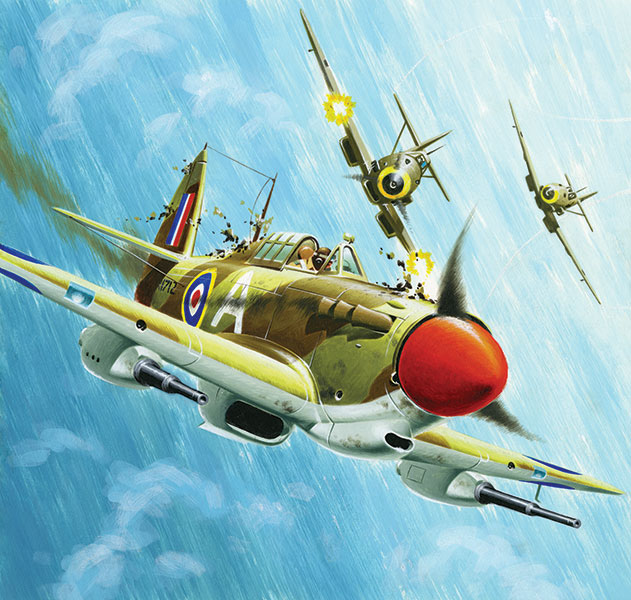 Cover illustration by Ian Kennedy, originally printed as No. 531 in 1971.
You've heard of the Hurricane IID, the mighty fighter that packed a killer punch.
Its job was smashing the Afrika Korps tanks with its two huge cannon.
Now meet the men who flew these planes into action – especially Wing Commander Theodore Trigg, an ace among aces and leader of the R.A.F.'s toughest bunch of pilots.
13. Undercover Agent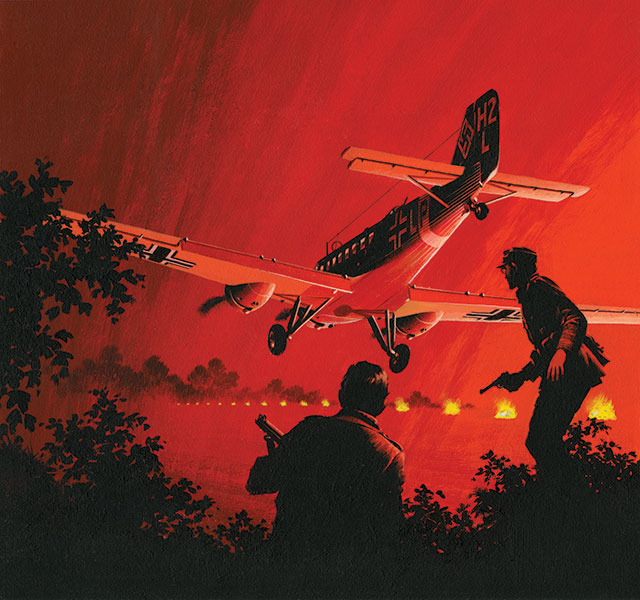 Cover illustration by Ian Kennedy, originally printed as No. 936 in 1975.
Why were a dozen German paratroopers being flown into British-occupied territory? And why was there a mixed bunch of black-marketeers to greet them?
There was certainly more to this than met the eye, and Captain Don Burke, a British undercover agent, was determined to find out what was going on.
How to order?
Related Blogs