Mother's Day Gift Subscriptions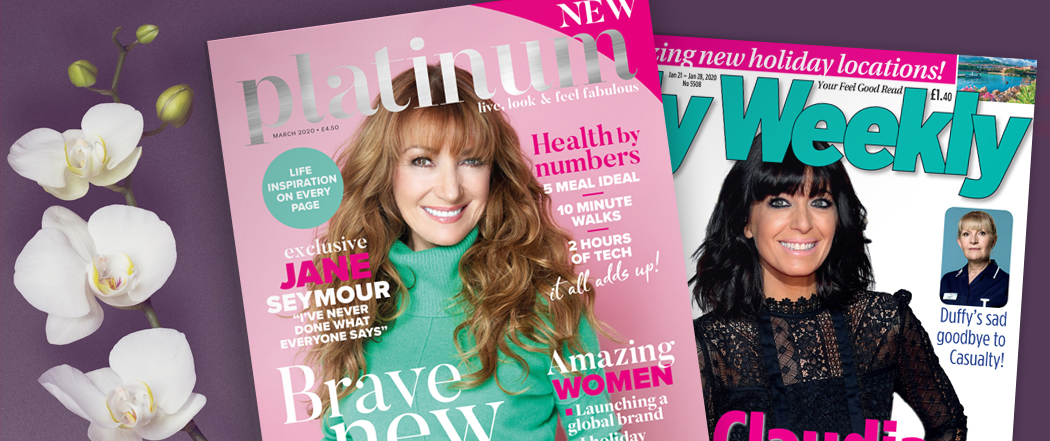 An afternoon tea will last a day. Flowers might last a week...but a gift subscription will last all year! A subscription is a great idea for Mother's Day that keeps on giving. She'll be reminded of your kindness with each issue that arrives.
At the DC Thomson Shop we've got something to suit every mum, whether they love fashion and celebrity news or short stories and nutritious recipes, there's something for everyone in our great range of magazine subscriptions. Have a look at our much-loved magazines that make great gifts this Mother's Day. Every order comes with a fantastic free gift and saves you money on the shop price. Plus they'll get every issue delivered to their door, with free UK delivery included – just like all of our magazine subscriptions.
The People's Friend
A subscription to The People's Friend is the perfect gift for mums who love feel-good fiction, recipes, gardening tips, lifestyle features, and so much more. With a short story for each day of the week, it's easy to see why thousands around the world love their weekly instalment of the "Friend", there is so much to read and do in every issue. Why not take out a gift subscription to The People's Friend this Mother's Day and give her a gift that will make her smile all year around?
Platinum
A subscription to Platinum magazine is the perfect gift for mums who enjoy living their best life. Platinum is a great gift for women who are up-to-date in both style and attitude, and interested in exploring the world around them. A Platinum subscription is THE magazine for fabulous women in the prime of their lives, who love having the time of their lives, with thought-provoking content that it is as stylish as they are. Each glossy new issue is packed with great articles they'll love every month.
No. 1
For all the fashionista mums, why not get them a subscription to No.1 magazine? She can keep up to date with the latest fashion trends, celebrity gossip, beauty tips, spa reviews and more! Every monthly issue is packed with everything she loves. What's more? Every product and treatment featured in No.1 is based right here in Scotland. A subscription to No. 1 Magazine is the ideal gift for your loved ones, and we have the latest great offers for you. Take a look and get involved with Scotland's glamorous today – mum won't be disappointed!
The Scots Magazine
A subscription to The Scots magazine is the ideal gift for mums who love all things Scotland. From the great outdoors to Scotland's vibrant cities The Scots magazine celebrates the diversity of Scotland in each monthly issue, showcasing our incredible scenery, vibrant culture and fabulous people. A gift subscription makes a fantastic present for mums who love hillwalking, photography, local events, home-grown recipes and everything else Scotland.
My Weekly
Does your mum love fiction, fashion, beauty, celebrity interviews, and puzzles? A My Weekly subscription might be the ideal gift for her. Each weekly magazine guarantees heaps of feel-good content. There's always something new on each page, and mum will remember your kind thoughts with each issue that arrives. Did we mention that a subscription to My Weekly also has an amazing saving on the annual shop price, too?
People's Friend Pocket Novels
A subscription to The People's Friend Pocket Novels is a great gift for fans of our weekly title, who just can't wait for more stories from their favourite magazine. They'll be guaranteed two brand new, novel-length, romantic stories every four weeks, packed with romance and drama. Plus they're pocket-sized, perfect for popping in a bag or coat pocket! Give a gift subscription to the pocket novels this mother's Day and they'll get more of what they love from the "Friend".
Browse our full range of Mother's Day subscription offers to find something they'll love - or even just as a treat for yourself! Enjoy great savings and free welcome gifts with our magazine subscriptions from the DC Thomson Shop.