Pass It On - Tips from the 1950s

Pass It On Household & Cooking Tips books are full of useful advice, wisdom and nostalgia from the 1950s. The tips are have been collected from newspapers and magazines of the 1950s, when housewives used to write in with their ingenious, clever and tasty hints and tips. 
---
BEST WAYS TO KEEP FLIES OUT OF YOUR HOUSE
As any good 1950s housewife would be, you'll be thinking about your spring cleaning. And, of course, if you could (at the same time) find a way to keep flies out of the house, wouldn't that be useful?
Well the 1950s Pass It On Tips column had a way:
If you are cleaning windows:
—A teaspoonful of borax in the water you wash windows with helps to keep flies away. It was used regularly as an insecticide before D.D.T. was produced.
—Mrs N. Wilson, Durham, wins this week's guinea.
Mind you, there were other ways to keep the flies out:
A good way to get read of flies:
—Take a piece of sponge, cover with boiling water, then squeeze the water out. Sprinkle a few drops of lavender oil over the sponge, and hang it in a suitable place. Flies detest this smell.
—Mrs H. Brown, 33 Morar Street, Methill, wins this week's guinea.
And if they did get into the house:
—Always keep a sprig of parsley near fresh food. It does marvels in keeping flies away.
—Miss D. J. Buckby, 40 Park Rd., Kettering, Northants.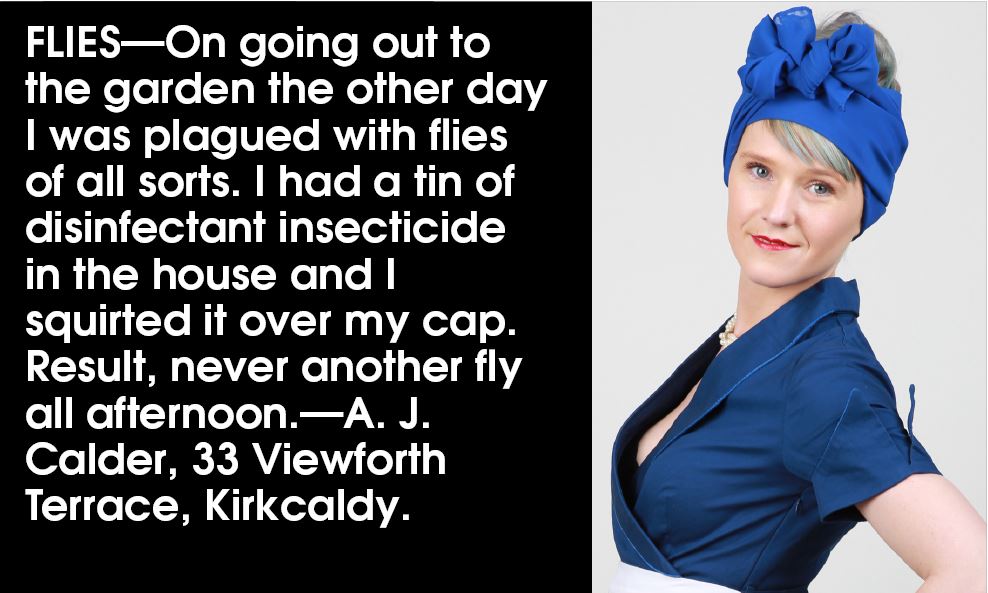 ---
TIPS FOR CLEANING WINDOWS
Cleaning windows is always difficult. There are always smears and sometimes a window finished off with a rubber blade becomes almost "sticky" — fluff and dust seem to be attracted to it. It's the difference between giving a window a polish and giving it a scrape.
They had clever ways to avoid this in the 1950s:
Ways to give your windows the perfect shine:
—When cleaning windows, use a square of clean velvet for the final rub up. No hairs or fluff will be left, and the result is a lovely shine.
—Mrs E. D. Malcolm, 150 Den Walk, Methil.
—To take streaky marks off windows and give a good polish, put your duster into an old nylon stocking and rub well.
—Mrs J. Allan, 9 Commerce St., Aberdeen.
And of course, in the 50s, where there were windows there were net curtains to look after:
—When threading net curtain on a curtain rod put a thimble over the end of the rod. This prevents it catching in the net.
—Mrs Wilderspin, 19 Ivanhoe, Monkseaton, Northumberland.
—Before hemming net curtains, run a strip of three-inch bandage across them. Then fold over and hem in the usual way. Rods can be run through without tearing the net.
—Mrs O'Gara, Strathclyde Street, Glasgow.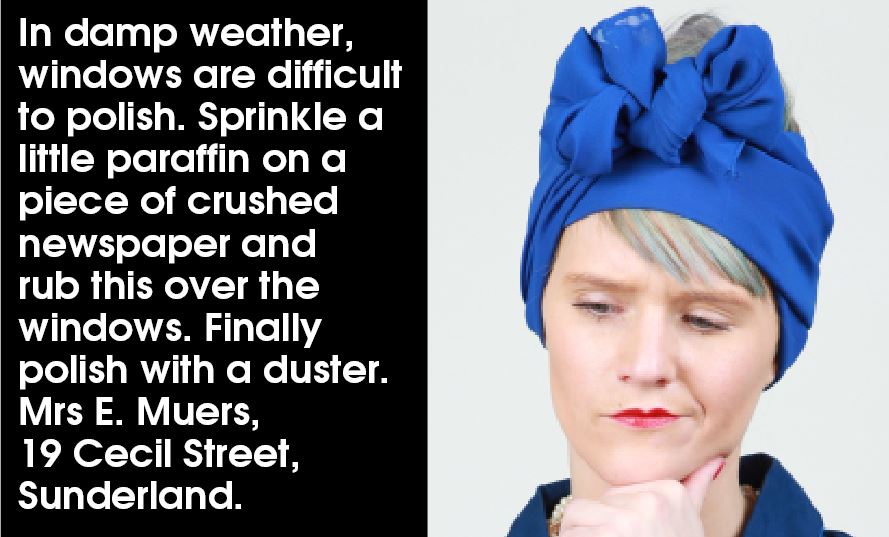 ---
KEEP SAFE WHEN CLEANING YOUR HOUSE
When cleaning, of course, you have to make sure you don't hurt yourself. Health & Safety regulations were a lot looser in the 1950s, so Pass It On tip-givers had to learn to look after themselves.
Lifting things could be done safely, though. If you knew how to easily move furniture:
—To move a hair mattress out of a room when spring cleaning, roll it up, tie ends firmly, then put it on the tea trolley lengthwise. It can be wheeled anywhere without stress.
—Mrs J. Millar, 178 West Princes St., Glasgow.
And safety always comes first:
—Spring-cleaning means household steps are much in use. So tack a strip of emery cloth to each step and give your foot a good, safe grip.
—Mrs J. Steel, Gauls, Kirtlebridge, Lockerbie.
Of course, some tips were followed, some weren't:
—When watching TV programmes for a long while in a dark room try wearing sunglasses of a fairly light tint. They prevent eye-strain.
—Mrs R. A. Blake, 20 Clarence Place, Lower Weston, Bath, wins a pair of towels.
And if you did get an injury, then there were ways to cope with it:
—If you find it difficult to locate a splinter in the finger, touch the spot right away with iodine. The splinter turns dark, and is then seen clearly.
—Mrs McLellan, 74 Darnley Street, Glasgow, wins a pair of towels.
And some tips were just really clever:
When opening a tin of sardines slip a clothes peg over the handle of the key. You get more leverage, and no hurt hands.
—Mrs Parker, 6 Bowman Flat, Larkhall.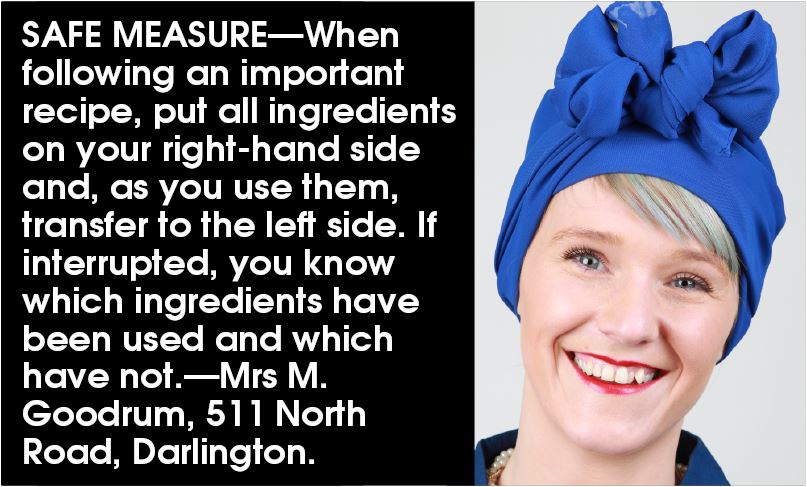 ---
TIME-SAVING TIPS AND TRICKS
If you were washing or cleaning in the 1950s, there weren't so many labour-saving devices as there are nowadays. But, still, you needed to get things done as fast as possible.
—Put all dusters and cleaning materials in a paper carrier bag when starting the morning cleaning. Carry from room to room as you clean and dust.
—Mrs J. McKenzie, 17 Dalkeith Ave, Bilton, Rugby.
And saving time in the garden was also a boon:
—When hand weeding the garden, a paper carrier bag held over one arm as a receptacle for the weeds will be found a tremendous help and save you lots of time.
—Mrs Margaret Trout, 19 Newington Ave., Annan.
And you didn't want to be held back when you were hanging out the washing:
—A wire coathanger makes an ideal holder for spring clothes pegs. Simply clip the pegs on the hanger and hang it on the line, and off you go at twice the speed.
—Mrs A. Foster, 4 North Rd., Tow Lane, Co. Durham.
Sometimes, just finding a way to organise yourself and organise what you are doing was enough of a reason to share a tip with other readers.
—An empty milk carton makes a fresh sink tidy every day. Pierce a few holes in the bottom for drainage. The carton is easily disposed of by burning in the fire at night.
—Mrs A. Strathdee, 10 Backcroft, Dunblane.
---
INNOVATIVE LIFE HACKS FROM THE 1950s
There's no substitute for just having a jolly good idea and being so proud of it that you want to share it. And some of these 1950s tips were nothing else but excellent, innovative brainwaves.
For instance:
—If a bedroom door rattles on windy nights, it can be silenced by stretching a rubber band between the two knobs. This cushions the door.
—Miss Rose Parkhill, 74 Bushmills Rd., Coleraine, County Derry, wins a pair of towels.
And this idea, all the way from Canada, was another stroke of genius:
—When taking the cap off a bottle which you wish to reseal, place a coin on top of the cap before applying the bottle opener. This prevents the cap being dented and enables you to reseal the bottle, making it airtight.
—Mrs W. A. Allan, General Deliver, Innisfail, Alberta, Canada.
And a lot of things that were good ideas 70 years ago, are still good ideas now:
—When opening a tin, commence at the joint of the tin, and the opener runs smoothly.
—Mrs Helen S. Armstrong, 2 George Sq., Greenock.
Here's another one:
—If you upset a box of buttons, pins, &c., scoop them up with the edge of a postcard. Much quicker than picking them up by hand.
—Mrs Caldwell, 51 Colinslee Dr., Paisley.
This, however, is the best of them all. The sort of tip that makes you say, "Who knew!" when you read it:
—Put table tennis balls that are dented into a bowl and pour boiling water over them. This takes the dents out.
—Mrs K. Hunter, 2 Abbey Park Place, Dunfermline.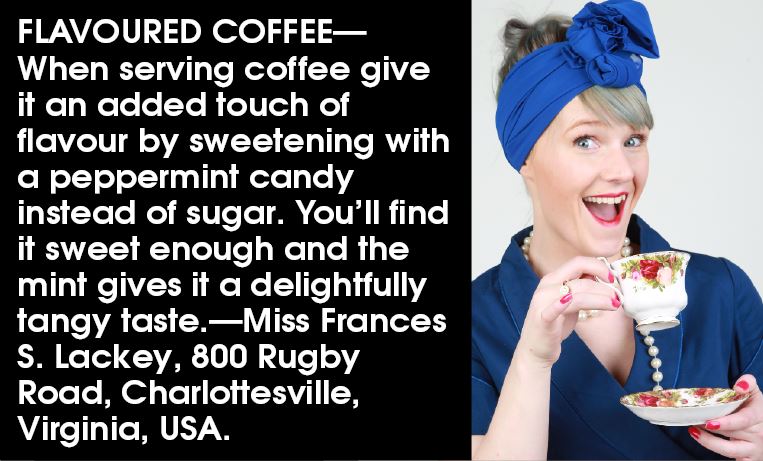 ---
Pass It On Household & Cooking Tips