Top Gardening Jobs For January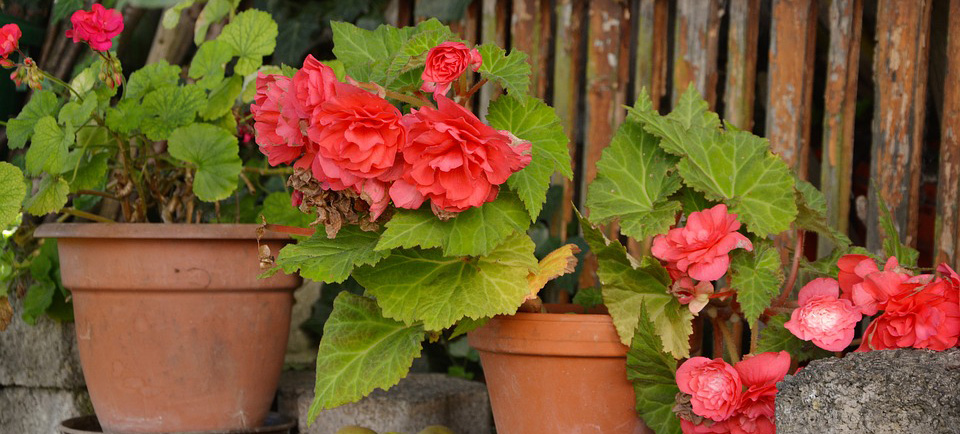 Top Jobs For January
We are now well into the New Year and the new decade has officially begun! There has never been a better time to make a fresh start on your garden. January is in fact, the best time to organise your garden and your flower displays. It is all about keeping it tidy and cutting things back for the year ahead.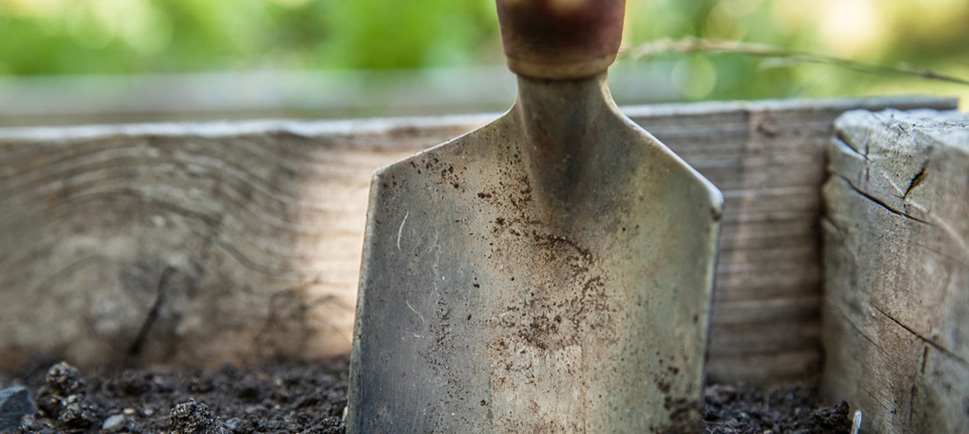 Follow our gardening tips below to get your garden in shape for the summer to come.
Tidy up your garden by removing any dead leaves or foliage.
Prune your trees and shrubs to promote biggest harvest. It is a good time to prune back apple and pear trees. Now is also the time to keep your Wisteria and Rose bushes in check by pruning the shoots to encourage growth in the summer.
Attract wildlife to your garden by adding a bird feeder or scattering nuts on your lawn.
Protect your tender plants from frost by moving them to a green house or keeping them in a cold frame. Remember to raise potted patio plants up off the ground on to feet or bricks to improve drainage and prevent water-logging.
The good news is that once you have cleared and prepared your garden you can start planting and creating stunning flower displays.
Plant now for summer colour in pots
There's always room for pots in your garden, whatever its size or style. If you only have a balcony, flat roof or windowsill, then containers can become your garden!
The great advantage of planting in pots is that you can choose different sizes of containers to create lovely flower displays. A collection of small pots, each filled with just one flower variety, can be as entrancing as an avenue of huge and expensive ones. On the other hand, a large container can become the centrepiece of an entire garden and transform it simply by its presence, as well as providing an opportunity to grow something magnificent in it.
What should I plant for an exceptional summer display?
For successful summer displays, choose plants that flower over a long period of time, respond well to deadheading and are tolerant of container cultivation. Below we have chosen some magnificent, colourful varieties that will be perfect for your garden.
18 Begonia Cascading Collection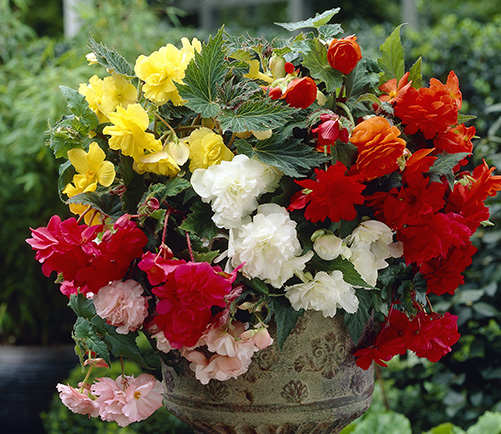 Order this collection of 18 Cascading Begonias for only £19.95, half price.
Trailing Begonias are a great sight in the garden, especially when they burst into colour, producing an amazing cascading effect from pots and window boxes. Flowers June to September.
25 Short Stemmed Lily Collection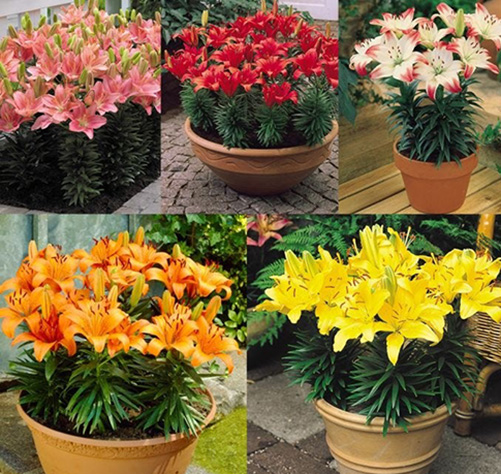 Buy 25 Short Stemmed Lily Collection for £22.47, half price!
Brighten up your summer displays with our carefully selected range of short stemmed Asiatic Lilies. Unlike most lilies, which grow to 120cm+ tall and tend to get damaged by wind and need support, these varieties grow to a height of just 30-50cm making them perfect for a range of containers.
Award-Winning Dahlia 'Bishop of Llandaff'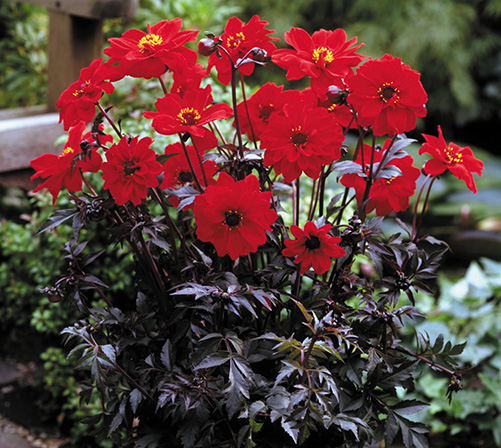 Buy 3 Dahlia Bishop of Llandaff for £10.99 or order 9 for only £21.98, that's 6+3 free.
Bishop of Llandaff is one of the most popular Dahlia varieties around, producing stunning red flowers against a background of unusual dark foliage.
They have won the RHS Award of Garden Merit, making them ideal plants for borders or patio pots and containers.
Tips for planting your summer bulbs
When buying plants, choose bulbs and tubers that are firm, fresh and feel heavy for their size, avoid any that are damaged, soft, shrinking or showing signs of mould.
It is important to select the right containers for your plants as their shape, size and design will have a visual impact on the final display.
Use pots of a similar colour and shape within each display for a consistent visual image.
Plant your bulbs to the right depth. Bulbs generally need to be planted to a depth that is about twice their height.
Plant bulbs in groups; odd numbers of bulbs in each group work best. Generally, the larger the group, the better the display looks.
Get creative and mix different varieties of bulbs together to make unique displays. Carefully plan ahead by checking flowering times and heights for best results.
Top tips for maintaining your containers
Water your plants regularly. Soak the pot thoroughly, let the top layer of compost dry out and water the pot thoroughly again.
Feed with a diluted feed such as seaweed extract every two weeks or so to keep plants healthy and flowering. Feed when the compost is moist.
Deadhead to trick the plants into producing more blooms. Regularly pick off faded flowers with your fingers or a pair of scissors.
Protect your plants from late frosts or winds by covering the containers in fleece or by placing them under cover.