Start your My Weekly Magazine Subscription today
Subscribe to My Weekly for only £4*!
My Weekly prides itself on being your feel good read – every issue is packed with engrossing fiction, delicious recipes and fantastic advice from our range of experts.
Whether it's fashion, beauty, health, or money, we've got it covered. We have interviews with all the celebrities who matter to you, brain-teasing puzzles and much, much more.
Get a My Weekly magazine subscription and you can look forward to having it all, every week!
Top things to expect with a My Weekly Subscription
Great-value
Offering fantastic savings, take advantage of our latest subscription offers (including free UK delivery).

Feel good read
Every issue is packed with amazing features to make your life better. My Weekly's lifestyle advice is second to none. We'll have you looking and feeling great with our easy health tips, stylish fashion and eye-catching beauty advice.
Our show-stopping cookery is truly unforgettable and will give you fantastic ideas for all occasions. Plus, you'll enjoy compelling fiction with entertaining serials and short stories from best-selling authors and rising stars.

Expert advice
Every week, My Weekly offers some fantastic advice covering a wide range of topics. Look out for Beauty and Fashion Editor Audrey Patterson, keeping you in the know about the latest trends.
Celebrity agony aunt Helen Lederer, provides heartfelt advice every week. Sharing expert advice, My Weekly's favourite GP, Dr Sarah Jarvis discusses important health topics. Stepping outside, Susie White offers expert gardening advice alongside plenty of hints and tips to help you make the most out of your green space.
Invaluable, particularly during the current climate, Consumer Expert Sue Hayward offers savvy finance tips, advice and simple steps to help readers make a saving or two. Head straight to My Weekly's Home Comforts section for seasonal ideas. You will also hear from Interiors Expert Dilly Orme, offering trendy crafts inspiration!

Catch up with your favourite celebrities
My Weekly includes interviews and features with the celebrities that matter to you! Recent featured celebs include Darcey Bussell, Olivia Colman, Robson Green and Jane McDonald.
Readers also hear from celebs with the team's "Getting to Know" weekly feature and TV personality Anthea Turner's "How I See It.." column!
Order direct from the publisher
Publisher of My Weekly, DC Thomson is a leading media organisation in the UK.
Established in 1905, DC Thomson publishes a huge selection of popular magazines and newspapers covering daily news, comics and lifestyle topics.
Support your favourite read with a great-value subscription direct from the publisher, ensuring that you do not miss the latest serving of quality, engaging content.
Subscription and delivery information
Your subscription will start 2-4 weeks from first payment (UK delivery).
To check on which issue you receive for your subscription start, visit our subscription calendar. New subscribers will also receive an order confirmation via post/email.
To discuss and manage your subscription start date, call customer services on 0800 904 7260
Monthly Direct debit*: £4 for your first month followed by £8 per month thereafter. Available to recipients within the UK when paying by Direct Debit.
Quarterly Direct debit*: 12 issues for only £17, then £24.50 every 3 months, available to recipients within the UK when paying by Direct Debit.
Direct Debit is for UK bank accounts only. Direct Debit offer for new customers only.
Prepay: One year credit/debit card or cheque price of £98 (UK).
Product code: 23XMS / MTHLY
General: Overseas customers please select the "Overseas" price tab above for accurate pricing information and to order, or call +441382 575322.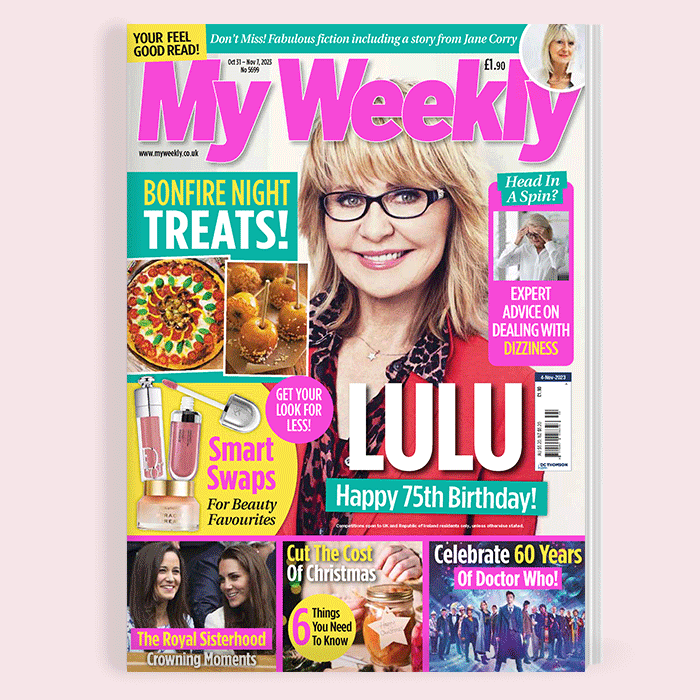 Join thousands of happy subscribers who are already part of the My Weekly community, and when you start your subscription today get your first month for only £4. (Offer for new, UK Direct Debit subscribers only.)
---