Subscribe to the glossy quarterly magazine that celebrates England.
Published four times a year, enjoy England through the seasons with the help of beautiful photography and terrific articles highlighting the country's rich history and heritage, fabulous scenery, wonderful places and fascinating characters, past and present.
Commemorate your love of England with a magazine subscription to This England. It's also a great gift for Anglophile friends and relations everywhere.
Please note, subscriptions purchased from this page will begin with the current issue.
Click on any of the tabs below for more information.
---
Britain's loveliest magazine since 1968
Launched in 1968 with the light-hearted slogan, "as refreshing as a pot of tea" and with a mission of "poetry not politics" This England is packed with absorbing articles, beautiful photography and uplifting stories and poems celebrating all that is best about England.
Over the years This England has built up – at home and abroad – a loyal readership who love its vibrant mix of features about modern and traditional subjects. In each seasonal issue we explore England's historic towns and picturesque villages, our lovely countryside, our rich history, Great Britons, fine stately homes and churches, glorious gardens, colourful customs, curiosities and traditions.
And while there's lots of nostalgia, we find plenty to celebrate in modern England, too from the arts and culture to the forward-thinking entrepreneurs, architects and craft-makers. All in all, everything that makes England such a lively and interesting place.
We have a network of fabulous contributors based all around the country writing on every subject imaginable and briefed to entertain and inform in everything they write.
---
---
Inside This England Autumn 2023 issue

Our latest issue Of This England is champions pioneering women. With Ada Lovelace Day approaching in October, Margaret Brecknell celebrates the spirited life of the world's first computer programmer in Great Britons. Daughter of Lord Byron, Ada's legacy as a programmer has been largely forgotten.
Margaret delves into her early life, education and the raw talent which allowed her to break down so many barriers during her life.
And 65 years on from the start of her flying career, Roger Harvey looks back on the life of socialite turned pioneering solo pilot, Sheila Scott OBE.
Taking up flying simply to prove that she could do it, Sheila went on to become the first person to overfly the True North Pole solo, equator to equator.
And we meet women who are doing amazing things today. Catherine Larner speaks to the immensely talented printmaker Angela Harding, who specialises in exquisite landscapes and animal portraits.
Her work will look familiar to anyone who has read Raynor Winn's best-selling memoir of walking the south-west coast, The Salt Path, with Angela having illustrated the front cover.
Of course, we also look back on the Coronation of our new King. Historical novelist Jack Jewers reflects on the parallels between the coronations of King Charles III and King Charles II, emphasising King Charles III's effort to display a more diverse Britain.
And as Charles takes to the throne, we also pay tribute to our much-missed late monarch, with a feature from Jane Clarke, who remembers waiting 12 hours in the queue to pay her respects to the Queen.
Also featured:
Historic Homes of England
Esther Chilton visits the lavish fairy-tale retreat of Bolsover Castle in Derbyshire
Made in England
Jeremy Flint talks wool and weaving with Richard Martin, who has made a career making cloth.
In Praise of Modern Britain
Brian Viner reflects on how public opinion of our politicians and the Royal Family has changed so dramatically.
Explore England
Russell Higham discovers fine shoes and impressive motors in Northamptonshire.
Forget-Me-Nots
After people across the country opened up their homes to Ukrainian refugees, Juliet Lockwood remembers her own wartime evacuation experience.
---
---
Meet the Editor: Angela Linforth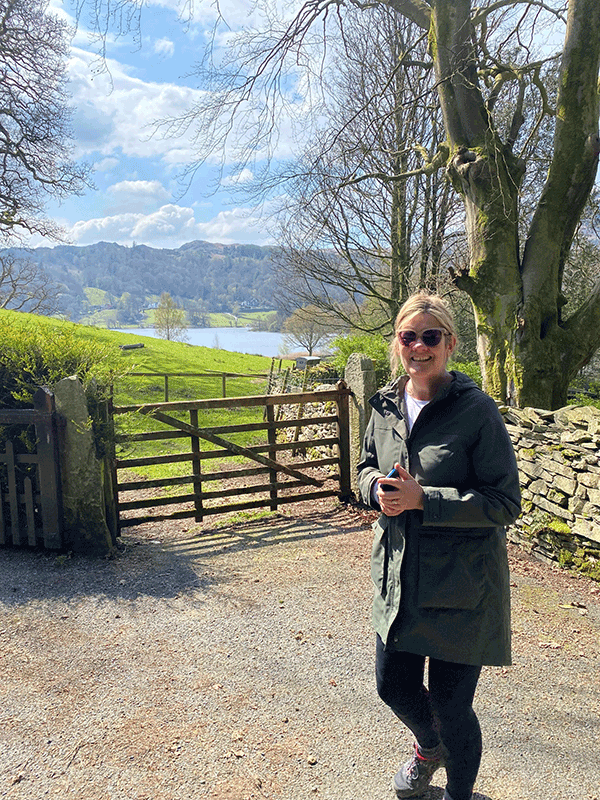 It is my absolute joy to be the editor of This England - what a voyage of discovery! I'm the third editor in the history of this wonderful magazine, having taken over in 2018. I have been a journalist and editor for most of my working life.
What I love about This England is its breadth of subject matter. While one day I can be learning about the history of aviation, or the favourite dogs of the royal family, the next I can be sailing up the River Severn, foraging in Herefordshire or discovering the story of the woman who built Cornwall's rock-based Minack Theatre.
In the five years that I've been at This England I've discovered so many fascinating things about our country, which despite the best efforts of our leaders, continues to thrill.
I have also absolutely loved the interactions with you, our wonderful readers, who are always coming forward with such a wealth of good ideas for the magazine, pithy comments on our features and feedback on aspects of this country that are little known and wonderful to discover.
If you want to get in touch, share a story or comment on anything in the magazine, please email us at editor@thisengland.co.uk or write to us at This England, 185-186 Fleet Street, London EC4A 2HS.
---
Support your favourite read with a great-value subscription direct from the publisher, ensuring that you do not miss the latest serving of quality, engaging content.
Publisher of This England, DC Thomson is a leading media organisation in the UK. Established in 1905, DC Thomson publishes a huge selection of popular magazines and newspapers covering daily news, comics and lifestyle topics.
---
---
Your subscription will start with the current issue at the time of payment and will be delivered within 28 days (UK delivery). Visit our subscription calendar for more information.
For earlier start dates, please call 01382 575755.
Overseas customers please call +441382 575755. Opening times 9am-5pm Mon-Fri.
Price quoted refers to prepay orders. Free gift is available to all new and renewing subscribers (UK delivery).
Product code: 23XMS
---