Save 50% on a Beano subscription 
DC Thomson shareholders are eligible for a discounted subscription on this title, saving 50% on the full Direct Debit price paid by general subscribers.  
Available only by annual Direct Debit. You must be a DC Thomson shareholder to purchase this offer. 
Get the weekly children's magazine subscription that families love
Join tens of thousands of families with a weekly Beano comic subscription. Named Children's Magazine of the Year in 2021, the Beano comic is the ultimate magazine subscription for kids aged 6 to 12. 
Home to Dennis, Gnasher, Minnie the Minx, the Bash Street Kids and Bananaman, the Beano comic has been entertaining generations of children since 1938. Packed with epic adventures, pranks and jokes written for today's kids, get the Beano comic delivered straight to your door weekly with a subscription.
Six great reasons to subscribe to Beano
Save on the shop cover price 

 

Receive each week's issue before it's in the shops

 

Delivery included – in 100% recyclable packaging too!

 

Get kids laughing out loud, trying out pranks and sharing jokes

 

36 pages of giggles that both new and confident readers can enjoy

 

50 fun-packed issues per year, including a bumper issue at Christmas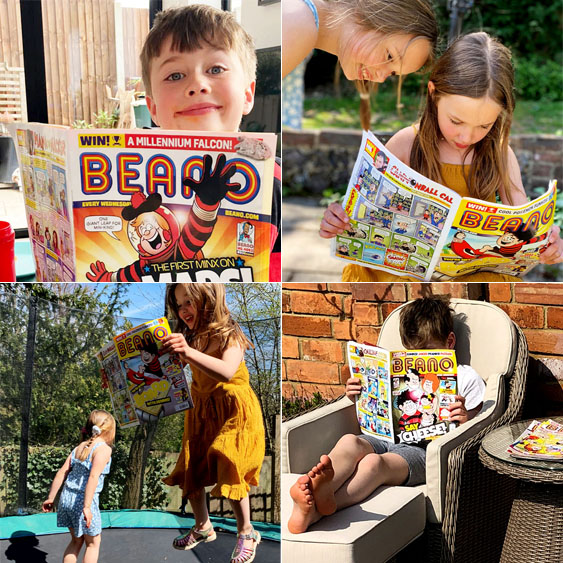 "Beano is brilliant" – what parents say about the Beano comic subscription 
"Beano is brilliant and such good value as it's read every week by the 6, 11 and 13 year olds! They love to go back and read them again."  
–– Jack, parent   
"Beano has been great for my son's reading. He keeps them all and reads them over and over every night. Best purchase ever." 
–– Mandy, parent 
"They still wait for the postman every Saturday, and read it cover to cover once it arrives."  
–– Amy, parent 
Read more comments from the parents of Beano subscribers, or find out about Reuben's reading journey.
Give a Beano subscription as a gift 
If you're looking for a fun magazine for a child or grandchild, a Beano subscription makes an ideal birthday present for boys and girls – any child will love getting comics by post every week. Simply buy your subscription as normal, entering the delivery name and address of the child, and get a downloadable gift certificate here if you need it.

Delivered to kids worldwide 
Beano comics are enjoyed by kids around the world. Please select the "Overseas" price tab above for details. Popular countries outside the UK for delivery include Ireland, the USA and Australia. 
Your subscription will start 2-4 weeks from the first payment (UK delivery).
We publish 50 issues of Beano per year.

How often will I pay?
You will be charged annually.

What day does Beano come out?
Subscription comics are dispatched on a Thursday via second class post. Estimated UK arrival is between Monday and Wednesday. Beano goes on sale in the shops on Wednesdays. Subscribers should receive the comic before it's in the shops.

Got other questions?
Find the answers to other Frequently Asked Questions here.