Start your My Weekly Magazine Subscription today
Try your 12 issues for only £1 each when you subscribe to My Weekly today*. Click below to claim this offer and save X% off the cover price.
Get 12 issues for only £12 when you subscribe to My Weekly now.
My Weekly prides itself on being your feel good read – every issue is packed with engrossing fiction, delicious recipes and fantastic advice from our range of experts.
Whether it's fashion, beauty, health, or money, we've got it covered. We have interviews with all the celebrities who matter to you, brain-teasing puzzles and much, much more.
Get a My Weekly magazine subscription and you can look forward to having it all, every week!


The Numskulls live in Edd's head – but everybody has them! Find their adventures only in Beano.
Benefits of a My Weekly subscription
Save on the shop price

Free delivery to your door

Never miss an issue
Some more information about what makes My Weekly a very special magazine and why you should subscribe.
Customer quotes.
From the editor text.
Examples of content.
Awards / accolades and press coverage.
Order direct from the publisher
DC Thomson, the publisher of My Weekly, is a leading media organisation in the UK.
Established in 1905, DC Thomson publishes a huge selection of popular magazines and newspapers covering daily news, comics and lifestyle topics.
Support your favourite read with a great-value subscription direct from the publisher, ensuring that you do not miss the latest serving of quality, engaging content.
Subscription and delivery information
Your subscription will start 2-4 weeks from first payment (UK delivery).
*Direct Debit: Only £12 for your first 12 issues then £20 every 3 months, available to recipients within the UK when paying by Direct Debit.
Direct Debit is for UK bank accounts only.
Offer ends 10th March 2023.
Product Code: MWY12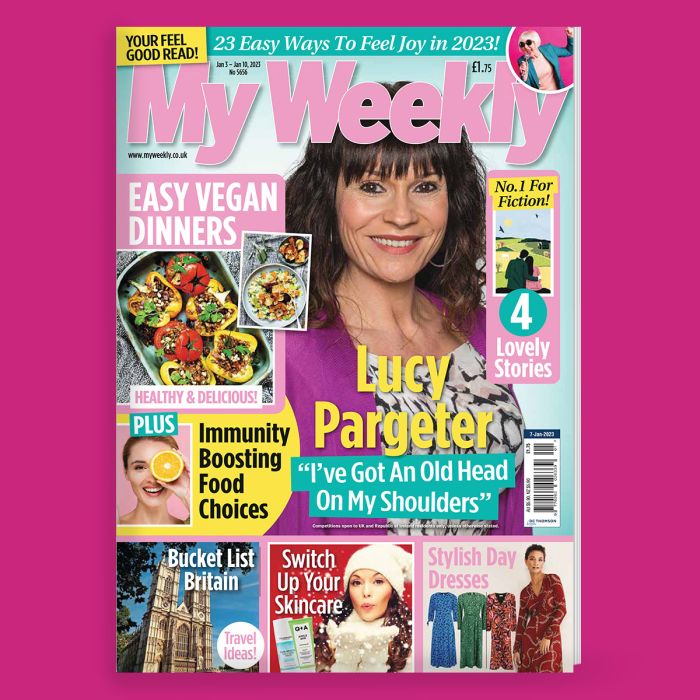 Join thousands of happy subscribers who are already part of the My Weekly community, and when you start your subscription today get your first 12 issues for £12. (Usual price £20 every three months. Offer for new, UK Direct Debit subscribers only.)
---